The Long and the Short and the Tall [Jungle Fighters] *** (1961, Richard Todd, Richard Harris, Laurence Harvey) – Classic Movie Review 5153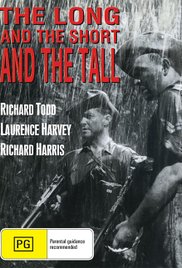 Director Leslie Norman's 1961 British film version of Keith Waterhouse and Willis Hall's classic stage play about a patrol of British troops who get lost in the Malaysian jungle in World War Two wartime and capture a Japanese soldier (Kenji Takaki) and argue over whether or not to shoot him.
The play was a hit in the theatre for young Peter O'Toole, but producer Michael Balcon made the mistake of replacing him with the then more popular film star Laurence Harvey, a much less good or exciting actor, who gives a stiff and stilted performance as Private 'Bammo' Bamforth, a know-all, hard-case enlisted soldier who wants to spare the prisoner's life through fundamental decency.
Norman directs diligently, trusting the play and letting the action and acting of the strong cast (Richard Todd, David McCallum, Richard Harris, Ronald Fraser, John Meillon, John Rees) shine through. The faded material seems terribly dated, and the film ends up interesting, if not always involving. Todd is good as Sergeant Mitchem and so is McCallum as spineless radio operator Private Whitaker, while Harris stands out as the rowdy Corporal Johnstone, who despises Bamforth.
It is made by Michael Balcon Productions and Associated British Picture Corporation, released by Associated British, scripted by Willis Hall and Wolf Mankowitz, shot in black and white by Erwin Hillier, produced by Michael Balcon and Hal Mason and scored by Stanley Black. It was made at Associated British Elstree Studios, Shenley Road, Borehamwood.
Takaki is the only actor to act in both the film and original stage production directed by Lindsay Anderson, who was upset he didn't get to make it as as feature film debut, retaliating by referring to Leslie Norman as a 'hack', incurring the wrath of his son, film critic Barry Norman.
The song Bless 'Em All (The Long and the Short and the Tall) is by Fred Godfrey, Jimmy Hughes and Frank Lake and is performed by the cast.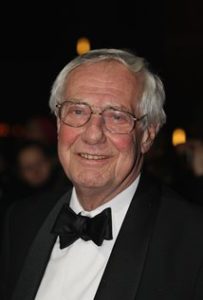 Barry Norman died on 30 June 2017, aged 83.
© Derek Winnert 2017 Classic Movie Review 5153
Check out more reviews on http://derekwinnert.com