The Lonely Guy ** (1984, Steve Martin, Robyn Douglass, Charles Grodin, Judith Ivey, Steve Lawrence) – Classic Movie Review 5149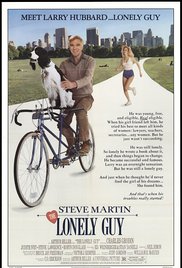 Steve Martin stars as struggling New York greetings card writer Larry Hubbard who is forced to follow the lifestyle of a single Lonely Guy when his girlfriend Danielle (Robyn Douglass) throws him out. He is befriended by Warren (Charles Grodin) but, after he is rejected by the lovely Iris (Judith Ivey) and loses his job, he decides to write a book about it all.
When it is a hit, Iris becomes smitten with him now that he is a celebrity appearing on The Merv Griffin Show. But, afraid to get too close, she picks playboy Jack Fenwick (Steve Lawrence) instead.
Appealing performances, especially from Martin and Grodin, spark up producer-director Arthur Hiller's genial 1984 movie, based on the book The Lonely Guy's Book of Life by Bruce Jay Friedman. But a downbeat, rather depressive, often flagging script by Neil Simon, Ed Weinberger and Stan Daniels lessens its impact.
More humour is needed to make it satisfying, though you do want to like it and wish it well. It is one of Martin's early amiable flop comedies, made just before his best period when he had first established himself at the top.
Merv Griffin and Dr Joyce Brothers appear as themselves.
© Derek Winnert 2017 Classic Movie Review 5149
Check out more reviews on http://derekwinnert.com