The Little Minister *** (1934, Katharine Hepburn, John Beal, Alan Hale) – Classic Movie Review 3939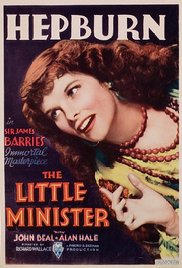 The young Katharine Hepburn exudes sprightly charisma in director Richard Wallace's 1934 RKO film of J M Barrie's fanciful novel and play about a staid 19th-century Scots minister called the Reverend Gavin Dishart (John Beal). He is enchanted by a fiery gypsy girl named Babbie (Hepburn), who warns the villagers of Thrums (based on Barrie's home of Kirriemuir) against the laird, Lord Milford Rintoul (Frank Conroy).
But Babbie is actually a member of the nobility who has only disguised herself as a gypsy to protect the villagers from Lord Rintoul, her guardian who wants to keep them under his control.
Dishar, who is newly assigned to Thrums' Auld Licht church, is at first appalled by the feisty girl, but soon comes to see her inner goodness. Initially, their romantic liaison scandalises the villagers.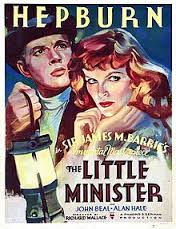 Set in rural 1840s Scotland, it is the fifth film adaptation of the works, after four silents. Though old-fashioned in 1934, the movie has worn surprisingly well, and is still carried through by its luminous star performance, the support players and the admirably lavish production.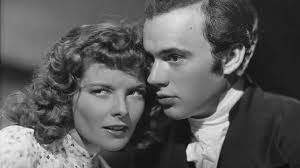 Also in the cast are Alan Hale as Rob Dow, Donald Crisp as Doctor McQueen, Lumsden Hare as Tammas Whammond, Andy Clyde as Wearyworld the Policeman, Beryl Mercer, Billy Watson, Dorothy Stickney, Mary Gordon, Eily Malyon, Reginald Denny, Leonard Carey, Herbert Bunston and Harry Beresford.
Much of the film's big budget of $650,000 was spent on exterior shooting in California's Sherwood Forest and Laurel Canyon and on the elaborate village set built on RKO;s Forty Acres back lot. Though it was a hit, its high cost resulted in a loss of $9,000.
The play opened on Broadway on 27 September 1897 with Maude Adams as Babbie, with three Broadway revivals, the last in 1925.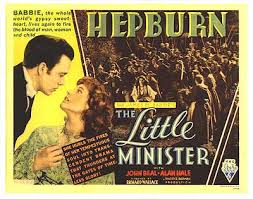 Hepburn allegedly only got interested in playing Babbie when she heard her competitor Margaret Sullavan desperately wanted the part.
An extra accidentally stabbed John Beal in his eye while filming the mob scene but they managed to save his sight.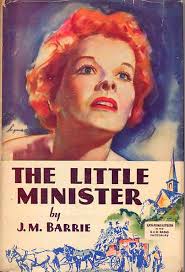 The copyright records say the film is based on Barrie's 1891 novel and not his 1897 play, but the on-screen credit does not say which the screenplay by Jane Murfin, Sarah Y Mason, Victor Heerman, Mortimer Offner and Jack Wagner is based on. Reviews usually only mention the play.
© Derek Winnert 2016 Classic Movie Review 3939
Check out more reviews on derekwinnert.com