The List of Adrian Messenger *** (1963, George C Scott, Dana Wynter, Clive Brook, Gladys Cooper, Herbert Marshall) – Classic Movie Review 5901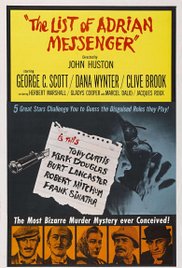 Director John Huston's lively 1963 movie tells a story about the attempts of former British intelligence officer Anthony Gethryn (George C Scott) to catch a killer who has bumped off group of 11 men on a list who stand in the way of his inheriting a fortune.
Unfortunately, the thriller story loses its way somewhere along the line, but the teasing, light-weight film is still pretty good, self-indulgent fun anyway. Anthony Veiller adapts the thriller novel by Philip MacDonald.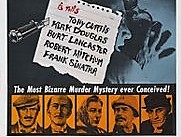 The lure of guest stars Tony Curtis, Kirk Douglas, Burt Lancaster, Robert Mitchum and Frank Sinatra all appearing in disguise (makeup by Bud Westmore) is irresistible, although admittedly it does not actually help the story along. But entertaining digressions are just fine.
Clive Brook appears as Marquis of Gleneyre in his last film after a 20-year break from movies (since On Approval in 1944). And there is a role for the director's son, [Walter] Tony Huston as Derek Bruttenholm in his only actor credit, though he wrote the Oscar-nominated screenplay of his father's film The Dead. John Merivale plays Adrian Messenger.
Also in the cast are Dana Wynter, Clive Brook, Gladys Cooper, Herbert Marshall, Jacques Roux, Bernard Archard, Marcel Dalio, Richard DeLong, Anita Sharp-Bolster, Allan Calliou, Noel Purcell, Richard Peel, Bernard Fox, Delphi Lawrence, Joe Lynch, Dave Willock, Barbara Morrison, Jan Merlin and John Huston uncredited as Lord Ashton.
It is advertised as 'Five Great Stars Challenge You to Guess the Disguised Roles they Play', but now [Spoiler alert] it can be told that Kirk Douglas has four roles – George Brougham / Vicar Atlee / Mr Pythian / and Arthur Henderson. Curtis has a cameo as organ grinder, Lancaster has a cameo as animal rights protester, Mitchum has a cameo as Slattery and Sinatra has a cameo as Gypsy.
© Derek Winnert 2017 Classic Movie Review 5901
Check out more reviews on http://derekwinnert.com