The Legend of Bagger Vance *** (2000, Will Smith, Matt Damon, Charlize Theron, Bruce McGill) – Classic Movie Review 690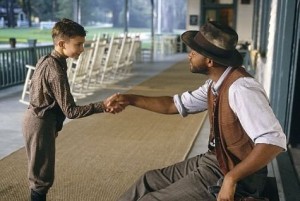 Director Robert Redford tees off in 2000 with a languorous golf movie, for heaven's sake, casting Matt Damon as Rannulph Junuh, a clapped-out, disillusioned World War One war veteran who is reluctantly talked into to playing in a big golf tournament. But his game is going as badly as his life, until…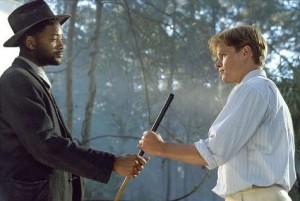 Will Smith gets in the swing as his mystical caddy, Bagger Vance, who teaches him the secret of the great golf stroke and thus the secret to mastering any challenge and the meaning of life.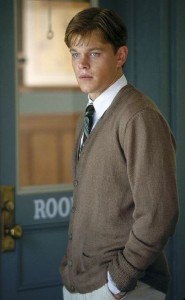 Painstakingly done, smoothly acted in a low-key way and quite beautifully filmed though it is, The Legend of Bagger Vance often feels like watching gorgeous gloss paint dry. However, the actors in their most attractive and appealing prime bring a lot to the film in terms of personality and sincerity.
And Redford proves his commitment in his conscientious handling of this period piece, which is very much a personal project with its mix of nostalgic Americana and an optimistic, quietly gung-ho message of grit and survival with a weird, oddly beguiling mystical element. It's the golf version of Field of Dreams.
And it is vital that it looks a million dollars, thanks to Michael Ballhaus, who is the brilliant director of photography, as well as painstaking work on the production designs (Stuart Craig), set decoration and costumes. The period feel is brilliant.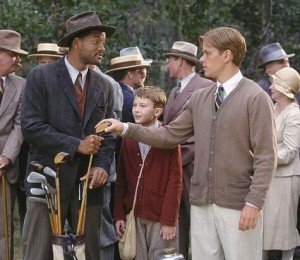 The moving narration by Jack Lemmon proved his final fling in the movies and plays a cameo as Old Hardy Greaves. He died on , aged 76.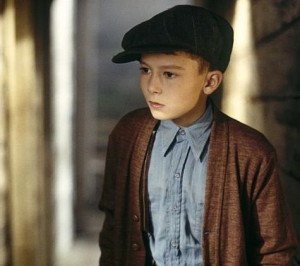 J. Michael Moncrief is Hardy Greaves as a kid and Charlize Theron also stars as Adele Invergordon.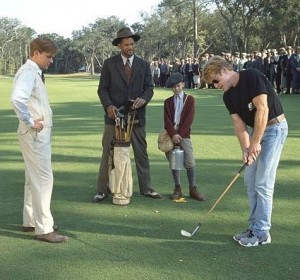 The screenplay is by Jeremy Leven, based on the novel by Steven Pressfield.
© Derek Winnert 2014 Classic Film Review 690
Check out more reviews on derekwinnert.com