The Last Man on Earth *** (1964, Vincent Price, Franca Bettoia, Emma Danieli) – Classic Movie Review 4054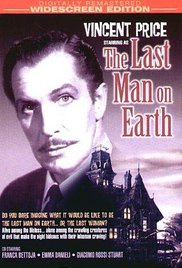 Esteemed novelist Richard Matheson felt that Vincent Price was miscast as hero Dr Robert Morgan, but he seems to do a his usual sterling job as the last man on Earth who becomes a reluctant vampire hunter when a disease turns humanity into the living dead.
Director Ubaldo Ragona's intriguing Italian-shot but US-set 1964 apocalyptic horror sci-fi movie is based on Richard Matheson's 1954 novel I Am Legend, remade as The Omega Man 1971 with Charlton Heston and again in 2007 as I Am Legend with Will Smith. It is is much more faithful to the book than its successors, though it changes its hero's name from Robert Neville to Robert Morgan, while the others adhere to the book.
It may be a bit rough hewn and ragged at the edges but it is influential as George A Romero regarded it as a blueprint for his key zombie movie Night of the Living Dead (1968).
For realism, Price insisted on lifting real people into the back of his car instead of dummies, though it's dummies at the scene at the pit.
Matheson wrote the screenplay in 1957 as Night Creatures for Hammer Films, who eventually bailed out and passed it on to Lippert. Matheson was eventually credited as co-writer but he was dissatisfied with the film and was credited as Logan Swanson.
Heston viewed this film before his remake and rubbished it as 'botched'.
© Derek Winnert 2016 Classic Movie Review 4054
Check out more reviews on http://derekwinnert