The Last Exorcism, Part II – Film Review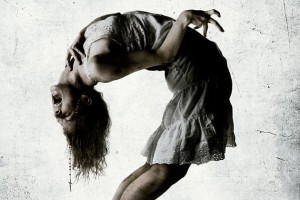 Continuing where the first film left off, Part II begins with Ashley Bell's troubled young Nell Sweetzer recovering in a care home after an exorcism. You may remember she's the sole survivor of Part I, her family and the documentary crew filming her exorcism having been wiped out. But, nightmares, voices and visions trouble her desperately and it emerges that the demon stalking her still holds great power over her.
With the crew dead, it's appropriate but also good that the first film's documentary style is happily abandoned this time in favour of 'proper film-making', as the new movie tries to takes us into the inside of the woman's head, and with some success, helped by the capable Bell's very intense, strong and persuasive performance. It produces a different kind of chiller film from the first, more of a classical horror movie, so there's a built-in freshness.
All good so far. Problem is though, all the film has to offer is one long series of jolts, scares and shocks. As they start getting increasingly monotonous and mechanical, you desperately want them to stop for a while, so we can have a bit of a story, some revealing conversations, some developing character studies, something just else. But, just as you're thinking this, and the film rewards the though when it does pause for a sec, it goes completely stone cold dead on screen. And then it suddenly has to quickly remember what it has to do and simply starts up the scares again. Boo!
This produces a less than frightening, revealing or classy horror movie. This time we can safely say, 'I've seen it all before.' Maybe we don't mind seeing it all again. But Part II doesn't have enough new riffs on the old themes to be very satisfying.
Nevertheless, exploring the theme of what the demon actually wants and his bond to the woman is a profitable route to go and does pay a few dividends. And following and exploring the woman's character and psyche is a fairly rich vein to seam, especially with an actress of Bell's skills. And the New Orleans backdrop adds a helpful taste of mystery and exotic flavour to the yarn.
Producer Eli Roth has a compelling way to sell his film. 'Horror movies are the best date films,' he says. 'It's the only time your are absolutely guaranteed to be squeezing your date's arm and no one ever wants to sleep alone after it's over.'
(C) Derek Winnert 2013