The Last Embrace *** (1979, Roy Scheider, Janet Margolin, Sam Levene, John Glover, Charles Napier, Christopher Walken) – Classic Movie Review 5358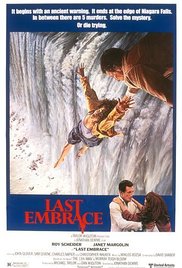 'They murdered his wife. His friends deserted him. His associates betrayed him. He thinks someone is trying to kill him. He's dead right.' Director Jonathan Demme's artificial, but often edge-of-seat 1979 Alfred Hitchcock-style neo noir romantic thriller boasts enough suspense and mounting fear to make up for its way too self-conscious tone of homage. Demme described it as 'a dark romance'.
Roy Scheider stars as Harry Hannan, a US Government intelligence man agent whose wife is killed in a restaurant shoot-out. Harry then has a breakdown and soon loses his department job. Then he gets a cryptic Hebrew death threat and finds out that five other people have died after similar such threats. Janet Margolin co-stars as helpful but mousy and proper Ellie Fabian, who moves into Harry's New York apartment ('Well, sherry requires a certain effort, doesn't it?').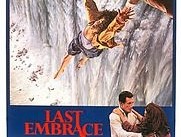 Scheider is a strong hero whom Hitchcock would have approved of, there is an excellent score by composer and conductor Miklós Rózsa (who won an Oscar for Hitchcock's 1945 Spellbound) and a strong finish on the Niagara Falls (a toast to the 1953 Marilyn Monroe thriller film Niagara). It also references Vertigo (1958) and Psycho (1960).
Also of note are the director's cameo as man on train, the shower curtain and the woman in the shower, and Christopher Walken's brief role as Scheider's boss, Eckart.
David Shaber's screenplay is based on Murray Teigh Bloom's novel The 13th Man. It is shot as usual by Demme's regular gifted cinematographer Tak Fujimoto.
Also in the cast are Sam Levene, John Glover, Charles Napier, Jacqueline Brookes, Mandy Patinkin, David Margulies, Andrew Duncan, Marcia Rodd, Gary Goetzman, Lou Gilber, Max Wright, Sandy McLeod, Cynthia Scheider, Joe Spinell and Jim McBride.
Miklós Rózsa also won Oscars for A Double Life (1947) and Ben-Hur (1959).
Jonathan Demme (1944–2017).
© Derek Winnert 2016 Classic Movie Review 5358
Check out more reviews on http://derekwinnert.com