The King of Marvin Gardens ***** (1972, Jack Nicholson, Bruce Dern, Ellen Burstyn) – Classic Movie Review 180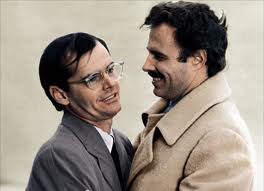 The young Jack Nicholson's the king of what was then new Hollywood in this marvellous gem from 1972, directed by Bob Rafelson. Long before the popular self parodying, self mocking yet somehow self-aggrandising Jack turn kicked in (nice work if you can get it), how good is he as a depressive late-night radio DJ trying to turn his boring life stories into interesting anecdotes for his listeners. Subtle, even underplayed, this is a superb performance from Nicholson that rates among his best.
It comes as no surprise if you've never seen this before that Jack's a cracker as David Staebler. But then so is the largely forgotten Bruce Dern as his chalk and cheese brother Jason, a seedy, go-getting ex-con, who's paired up with an ageing beauty queen (Ellen Burstyn) and her much younger protégé, also an aspiring beauty queen (Julia Anne Robinson) for what? Sex, companionship, who knows?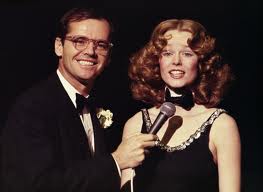 Linked only in being brothers and being equally pathetic, David and Jason don't really see eye to eye, as David gets Jason out of jail on parole, and Jason tries to involve him some crazy get-rich-quick schemes, in particular his grand plan for a paradise resort in Hawaii.
Though they have less to don, and the movie's not essentially about them, Burstyn is almost equally marvellous as the two men – and the unfairly unknown Robinson is great too.
We're in Atlantic City, which proves to be the fifth star of the movie under acclaimed cinematographer Laszlo Kovac's steely gaze. They captured the place just at the right moment, capturing the zeitgeist of the ghostly former seaside fun town, now at this moment in 1972 given over to silly old ladies and their ancient vanities.
Before the arrival of today's glam casino hotels, the landscape is bleak and strangely eerie indeed, like a cemetery awaiting the arrival of corpses. It's all desperately faded and empty thirties hotels, shops, fun-free funfairs and arenas. A perfect arena then for a drama of despair and pursuing a theme of the sham of the American Dream.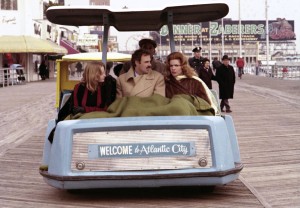 Brilliantly cinematic though the film is, the story plays out in an intimate and surreal fashion, as four pathetic lives fall apart in front of you on-screen. It could have been written by Beckett or Pinter or Arthur Miller, and it could easily have been a four-hander play on an off-off-Broadway stage. Instead, director Bob Rafelson turns it into a bitter-sweet cinema masterpiece, funny in its macabre way, but scarily hard to watch as its angry, hurt mood of desperation and frustration kicks in and the inevitable tragedy it clearly forebodes explodes.
The quartet stay in a gloomy thirties hotel, once grand, now nearly empty (save for a few old-timers), a setting than seems to predict the hotel Nicholson comes to live in in The Shining, and it's used similarly as a haunting movie backdrop. But Marvin Gardens is a far more serious item than The Shining, a potent and power-charged potshot at the dark side of the American Dream. This might seem a corny, hackneyed old theme, but here it comes up as fresh as the day it was minted. Its potshots seem sometimes astonishingly wayward but they hit the target bullseye.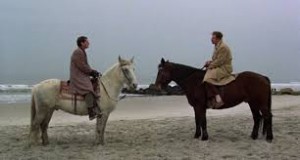 And surreal? That's mostly visual. The excitingly and teasingly surreal images include Jack and Bruce on horseback on the beach, Jack on a white steed, Bruce on a black one, facing each other. The final image is also going to be the two brothers, as children playing happily together, it seems, on the beach, in old film footage their grandpa plays from his home projector on his sitting-room door.
Goodness, there were great movies in the seventies. And great actors too. Will we be saying the same thing about this present decade 40 years on? Or are we living in a time of pygmies after the giants have all faded?
Rafelson says Blood and Wine (1996) is the final part of his informal trilogy with Nicholson starting with Five Easy Pieces (1970) and then The King of Marvin Gardens.
http://derekwinnert.com/five-easy-pieces-1970-jack-nicholson-karen-black-billy-green-bush-susan-anspach-lois-smith-william-challee-ralph-waite-classic-movie-review-2877/
http://derekwinnert.com/blood-and-wine-1996-jack-nicholson-michael-caine-stephen-dorff-judy-davis-jennifer-lopez-classic-movie-review-2998/
© Derek Winnert 2013 Classic Movie Review 180
Check out more reviews on http://derekwinnert.com