The Killer Shrews ** (1959, James Best, Ingrid Goude, Ken Curtis, Gordon McLendon, Baruch Lumet) – Classic Movie Review 3915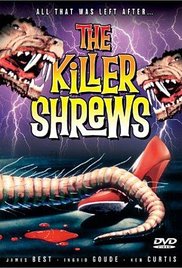 'Your skin will crawl with fear at their nearness'. Jay Simms's story imagines a group of people are being terrorised on an isolated island by giant voracious shrews during a hurricane.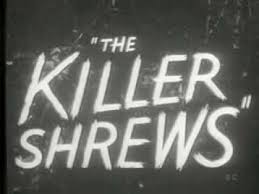 A mad doctor is making humans half their size, as a response to over-population. But the same experiments have created the giant shrews, which, having eaten all the smaller animals to eat, go to work on people.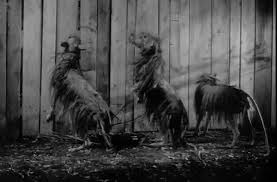 Director Ray Kellogg's corny, flaky, risible 1959 sci-fi horror movie, also known as The Attack of the Killer Shrews, is a laughable drive-in cult movie favourite. James Best stars as hero Captain Thorne Sherman, with Ken Curtis as Jerry Farrell, Ingrid Goude as Ann Cragis, Gordon McLendon as Dr Radford Baines and Baruch Lumet as Dr. Marlowe Cragis.
It was shot near Dallas, Texas, back to back with The Giant Gila Monster by producers Ken Curtis for drive-in theatre owner Gordon McLendon.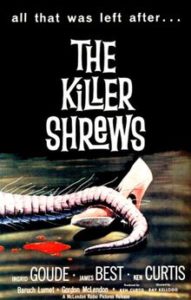 Twentieth Century-Fox's head of special effects Kellogg was first-time director, and in return did the special effects. Coon dogs were costumed and used as the killer shrews, with close-ups of the shrews filmed using hand puppets.
Though a low-budget 'regional film', it got national and foreign distribution and it was a profitable hit: on a $123,000 budget, it earned £1 million in US cinemas.
A colourised version was released on DVD with The Giant Gila Monster in a double feature by Legend Films. The Killer Shrews is now in public domain.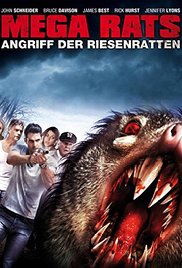 A sequel, Return of the Killer Shrews, was made in 2012, with Best back as hero Captain Thorne Sherman, Bruce Davison as Jerry, and John Schneider and Rick Hurst, Best's co-stars in TV's The Dukes of Hazzard. It holds the record for longest time between sequels (54 years) in a live action movie.
© Derek Winnert 2016 Classic Movie Review 3915
Check out more reviews on http://derekwinnert.com