The Joyless Street [Die Freudlose Gasse] ****½ (1925, Asta Nielsen, Greta Garbo, Werner Krauss, Ágnes Eszterházy) – Classic Movie Review 5325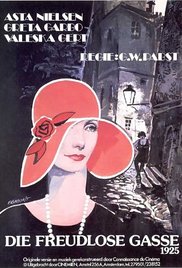 Director Georg Wilhelm Pabst's long famous, now legendary 1925 German silent movie is based on the novel by Hugo Bettauer about the sad lives of near-starving, inflation-ruined people on a Viennese street, forced to resort to prostitution and crime, following World War One.
It is made in a fascinating mix of documentarist-style script and artificially created scenes, blatantly using a set for the street exterior, giving it a striking look.
It brought instant international acclaim, success and stardom to Greta Garbo in her second leading part in a feature-length film after The Saga of Gosta Berling (1924).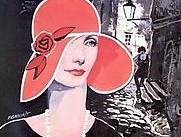 Garbo plays Greta Rumfort, a teacher's daughter struggling to feed the family, unfairly overshadowing leading lady Asta Nielsen, who gives a striking silent movie star performance as a mistress, Maria Lechner. It also features Werner Krauss as Metzger von Melchiorstrasse, Valeska Gert, Ágnes Eszterházy, Henry Stuart, Gregori Chmara, Karl Etlinger, Ilka Grüning and Einar Hanson, Marlene Dietrich appears as a crowd player.
Renowned in its own right, it is important culturally and historically, too, as it signalled the end of Germany's Expressionist period, replacing it with a more urgent mood of social realism.
It is written by Willy Haas and shot in black and white by Guido Seeber, Kurt Oertel and Robert Lach.
It is also known as The Street of Sorrow and Streets of Sorrow.
 © Derek Winnert 2017 Classic Movie Review 5325
Check out more reviews on http://derekwinnert.com