The Jazz Singer * (1952, Danny Thomas, Peggy Lee, Eduard Franz, Mildred Dunnock) – Classic Movie Review 5027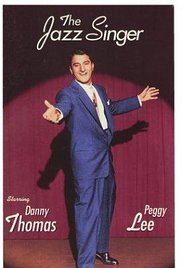 'It's joy set to music. A story that sings out to your heart.' Well, maybe, but more probably maybe not.
Danny Thomas steps into Al Jolson's singing shoes for Michael Curtiz's slushy 1952 second film version of the classic 1927 The Jazz Singer, which was first talkie (the first feature-length movie with audible dialogue). The impossibly dated story is about a nice Jewish Cantor's son, now called Jerry Golding, who wants to break into show business to become a famous jazz singer against his Cantor father (Eduard Franz)'s wishes.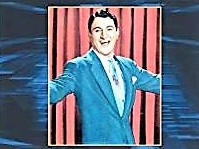 Based on the play Day of Atonement by Sampson Raphaelson, this is as unnecessary as the 1980 remake of The Jazz Singer with Neil Diamond and Laurence Olivier, and rather less fun. Thomas fails to prove a major attraction, but Franz and Mildred Dunnock liven things up as Golding's parents, and Peggy Lee adds tuneful allure as Golding's friend Judy Lane.
Also in the cast are Tom Tully, Allyn Joslyn, Alex Gerry, Harold Gordon, Hal Ross, Justin Smith, Anitra Stevens, Marcoreta Hellman, Gayne Whitman, Anthony Jochim, and Dan Barton.
It runs 106 minutes, is made and released by Warner Bros, is written by Frank Davis, Leonard Stern and Lewis Meltzer, is shot by Carl Guthrie, is produced by Louis F Edelman, is scored by Ray Heindorf and Max Steiner, and is choreographed by LeRoy Prinz.
Franz was less than 10 years older than Thomas. Supposedly returning from the Army, Golding is wearing an Air Force uniform.
© Derek Winnert 2017 Classic Movie Review 5027
Check out more reviews on http://derekwinnert.com