The Jazz Singer ***** (1927, Al Jolson, May McAvoy, Warner Oland, Eugenie Besserer, Otto Lederer) – Classic Movie Review 4897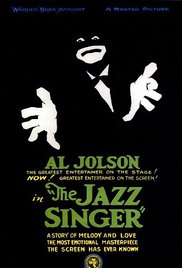 It is not as drama that director Alan Crosland's 1927 Al Jolson musical about a Jewish Cantor's son who prefers showbiz to the approval of his father is remembered. Nor is it for the performances of Warner Oland as the Cantor dad and Eugenie Besserer as Mammy. For Warner Bros' The Jazz Singer is celebrated as the first time words that were heard in a movie. At least it is the first feature-length movie with audible dialogue.
Playing Jakie Rabinowitz, Jolson speaks 281 (improvised) words ('Wait a minute, wait a minute… You ain't heard nothin' yet… Do you want to hear Toot, Toot, Tootsie?') to his Mammy Besserer (who ad libs back a few words to him).
The plan was that the film should have synchronised music only , not speech, but Jolson spoke 'You ain't heard nothin' yet' after the song 'Dirty Hands, Dirty Face'. The director wisely left it in and Sam Warner insisted that it was included in the movie, earning him the nickname 'Father of the Talkies'. Alas, he died on 5 October 1927, one day before the film debuted.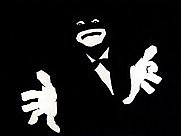 But we also get the chance to relish in sound and vision Jolson as a performer from the time when he was dubbed 'the greatest entertainer in the world'. It says something that this 1927 movie is still thoroughly fascinating, entertaining and enjoyable for audiences in the mood to savour its ancient riches.
May McAvoy also stars as well-known stage performer Mary Dale, who helps Jakie gets his showbiz break.
The songs include 'My Mammy', 'Toot, Toot, Tootsie Goodbye', 'Blue Skies', 'Mother I Still Have You', and 'Dirty Hands, Dirty Face'.
Jack Jarmuth wrote the scenario and Alfred A Cohn wrote the inter-titles, based on the play Day of Atonement by Samson Raphaelson.
It also co-stars William Demarest, Otto Lederer, Bobby Gordon, Richard Tucker, Nat Carr, Roscoe Karns, Cantor Joseff Rosenblatt, Anders Randolf and Will Walling. Myrna Loy has bit part as a chorus girl.
It won an Honorary Academy Award in 1929 'For producing The Jazz Singer, the pioneer outstanding talking picture, which has revolutionized the industry.' Alfred A Cohn was Oscar nominated for Best Writing, Adaptation.
It was remade twice, as The Jazz Singer in 1952 with Danny Thomas, Mildred Dunnock, Eduard Franz and Peggy Lee, and again as The Jazz Singer in 1980 with Neil Diamond, Laurence Olivier and Lucie Arnaz.
© Derek Winnert 2017 Classic Movie Review 4897
Check out more reviews on http://derekwinnert.com