The Jackal *** (1997, Bruce Willis, Richard Gere, Sidney Poitier, Diane Venora, Mathilda May, J K Simmons) – Classic Movie Review 4893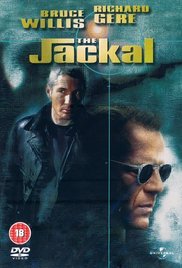 Director Michael Caton-Jones's capable, quite exciting 1997 action thriller is a more than satisfactory remake of The Day of the Jackal (1973), an admittedly much better film that didn't need a remake.
Richard Gere and Bruce Willis are both very gainfully employed as an imprisoned IRA fighter and the faceless brutal assassin he is freed from jail for to stop him from completing his next kill.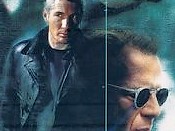 The effective cat and mouse screen story and screenplay are by Chuck Pfarrer, based on the earlier screenplay Day of the Jackal by Kenneth Ross, reworking the original (and Frederick Forsyth's bestselling source novel) ingeniously and freshly.
Also in a good star support cast are Sidney Poitier as FBI Deputy Director Carter Preston, Diane Venora as Major Valentina Koslova, Mathilda May as Isabella Zanconia, J K Simmons as FBI Agent T. I. Witherspoon, Richard Lineback as FBI Agent McMurphy, John Cunningham as FBI Director Donald Brown, Jack Black as Ian Lamont, Tess Harper as The First Lady, Leslie Phillips as Woolburton, Stephen Spinella, Sophie Okonedo and David Hayman.
Gere didn't make many action films and this one was a good idea for him.
It is crisply edited by Jim Clark, who won an Oscar for Best Film Editing for The Killing Fields (1984).
© Derek Winnert 2017 Classic Movie Review 4893
Check out more reviews on http://derekwinnert.com