The Invisible Menace ** (1938, Boris Karloff, Marie Wilson, Eddie Craven, Cy Kendall) – 5623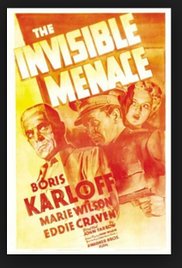 Director John Farrow's little 1938 thriller at least has the virtue of starring the great Boris Karloff in his prime.
The question in Crane Wilbur's screenplay is, has US army worker Jevries (Karloff) committed the murder of an officer at the foggy military base where he is employed?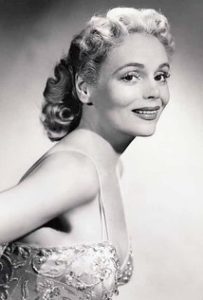 Eddie Craven plays US Army Private Eddie Pratt who smuggles his new bride Sally (Marie Wilson) into the military base to enjoy his wedding night – but instead they discover a murder. Cy Kendall plays Colonel Rogers of Army Intelligence arrives to investigate, sifting through all the suspects, though he wants Jevries to confess.
At just 55 minutes, it is only a short and humble double feature mystery-thriller, shored up with a nicely chilling Karloff performance and some menacing scenes, but unfortunately little else to recommend it. The strained script, awkward handling and unexpectedly rotten support turns from the Warner Bros contract players harm it when it could have been more fun.
Wilbur's screenplay is taken from Ralph Spencer Zink's Broadway play Without Warning, which ran for only 17 performances in May 1937, with Eddie Craven in the same part.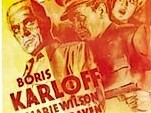 Also in the cast are Regis Toomey, Marie Wilson, Henry Kolker, Eddie Craven, Cy Kendall, Frank Faylen, William Haade, Harland Tucker, Phyllis Barry, John Ridgely, John Harron, Eddie Acuff and Charles Trowbridge.
It is shot in black and white by L William O'Connell and produced by Bryan Foy.
It went out on a double bill with Swing Your Lady (1938).
It is an earlier version of Murder on the Waterfront (1943) with Warren Douglas, Joan Winfield, and John Loder.
© Derek Winnert 2017 Classic Movie Review 5623
Check out more reviews on http://derekwinnert.com