The Invisible Man's Revenge *** (1944, Jon Hall, Leon Errol, John Carradine, Alan Curtis, Evelyn Ankers, Gale Sondergaard) – Classic Movie Review 5622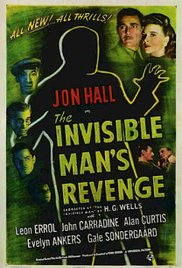 'All NEW! All Thrills!' Universal's third Invisible Man movie follows James Whale's The Invisible Man (1933) with Claude Rains and Joe May's The Invisible Man Returns (1940) with Vincent Price. There was also The Invisible Woman (1940) with Virginia Bruce and Invisible Agent (1942), in which Jon Hall starred  as Frank Raymond.
This time Jon Hall stars as Robert Griffin, a fleeing killer on whom a doctor (John Carradine) tests his new formula an makes him invisible. [Spoiler alert] But, when Doctor Drury won't make Griffin visible again, Griffin bumps him off.  So, as he is The Invisible Man, Griffin then sets off to terrorise and get his revenge on the Herrick family whom he believes cheated him of his fortune years ago.
It also stars Evelyn Ankers as Julie Herrick, Gale Sondergaard as Lady Herrick, and Lester Matthews as Sir Jasper Herrick. The latter two discovered a diamond mine in Africa with Griffin, but double crossed him, knocked him on the head and left him for dead. Well, that would make you want to become invisible and wreak revenge, wouldn't it?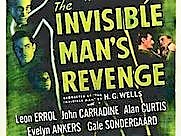 It is an intriguing return to the original H.G. Wells idea of the Invisible Man as a killer but, as so often, for want of a really good screenplay, it is left to the extremely impressive work of the good cast to make it tasty.
Producer-director Ford Beebe's 1944 sci-fi horror thriller is not at all bad, with decent effects for the day. But it is a shame about Hollywood's daft ideas of how England looked at the time.
Also in the cast are Leon Errol, Alan Curtis, Halliwell Hobbes, Doris Lloyd, Ian Wolfe, Billy Bevan, and Leyland Hodgson.
It is written by Bertram Millhauser in an original screenplay suggested by H.G. Wells's The Invisible Man, shot in black and white by Milton R Krasner, produced by Ford Beebe, scored by Hans J Salter, and designed by John B Goodman and Harold H MacArthur, with special effects by John P Fulton.
© Derek Winnert 2017 Classic Movie Review 5622
Check out more reviews on http://derekwinnert.com