The Iceman **** (2012, Michael Shannon, Chris Evans, James Franco, Winona Ryder, David Schwimmer, John Ventimiglia, Robert Davi, Stephen Dorff, Ray Liotta) – Movie Review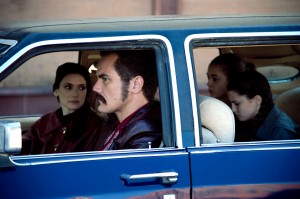 The true-life story of an infamous contract killer of the 60s, 70s and 80s, The Iceman sears the screen with an agonising sharp slash. It recalls GoodFellas, not only because Ray Liotta stars again, and that's a good thing. It's not quite as good but it's definitely a contender, a strong runner-up.
Michael Shannon inhabits the character of the Polish big guy Richard Kuklinski like putting on an old leather glove, like the ones he wears in the film when he's on mob business, maybe. Killing without guilt or remorse, he's huge and scary, once or twice terrifying as he enters vengeful rage mode. That's ideal for portraying the hitman who in 1986 was convicted of murdering 100 men as a freelance for crime organisations around New York. Shannon is in many ways the making of the movie.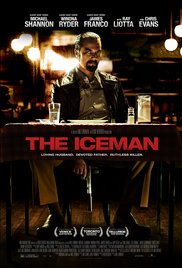 The story gets its unusual spin through Kuklinski's devotion to his wife and daughters. Winona Ryder makes a neat job of playing the little woman, sort of cute, birdlike and kind of scared looking. She loves her husband, is proud of him, but seems to know instinctively something's wrong and doesn't want to ask, though it wasn't until his arrest that the family was actually aware of his 'profession'.
Liotta is his usual excellently creepy self as Roy Demeo, the unpredictably violent crime boss who first recruits Kuklinski (you wouldn't want to go within ten metres of Liotta, would you?) and an unrecognisable Chris Evans is on fine form as Kuklinski's partner-in-crime Mr Freezy, a 70s hitman who sells ice cream by day and freezes bodies by night. David Schwimmer and John Ventimiglia are ideal as Demeo's seedy minions, Robert Davi's chilling as his mob colleague, while James Franco and Stephen Dorff contribute brief cameos.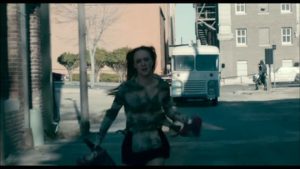 Director Ariel Vromen powers this long-running saga swiftly and energetically along. Gripping like a vice, it all feels right, with the period detail and characters ringing true, and it's highly exciting as a mob thriller. Maybe it shouldn't be entertainment, but it is.
What we are supposed to take from it, think about it or learn from it, I've no idea. Crime doesn't pay? Family comes first? Probably there's no need to think, just sit back, be gripped, be scared and enjoy. Living crime vicariously in the movies is safe, no one's going to slit your throat in the cinema or send you to jail. Maybe that's the lesson of the movie.
The screenplay by Ariel Vromen and Morgan Land is based on the documentary The Iceman Tapes: Conversations with a Killer by James Thebaut and the book by Anthony Bruno.
© Derek Winnert 2013 Movie Review
Check out more reviews on http://derekwinnert.com