The Hunt – Film Review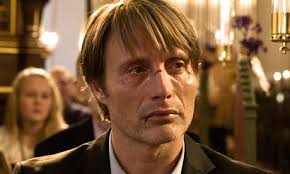 Thomas Winerberg's 2012 Danish masterwork The Hunt is a totally harrowing, devastatingly emotional and intellectual experience.
Mads Mikkelsen gives an astonishing, fearless tour-de-force, deserving his Cannes Best Actor win as sweet and innocent junior teacher Lucas, who's wrongly accused of showing his willy to a six-year-old girl pupil, prompting prejudice, a witch-hunt, then violence. On the least possible evidence, more or less none, he's immediately guilty until proven innocent.
Vinterberg makes what might in other hands be a fairly simple, ordinary story into a totally brilliant film as heartrending as it is thought provoking. With another writer- director, it could just have been a TV movie, but with Vinterberg it's easily one of the best films of the year. It's a coruscating condemnation of mankind and human behaviour, totally credible and moving in itself, but maybe not to be taken completely literally, instead to be viewed rather as a quasi-religious parable.

Lucas seems to me a Christ-like character, whose fate is adjudged through all the others, the two people who believe in him (his son and his best man), the doubting Thomases (his friend Theo and his girlfriend) and those who would crucify him (everybody else). He is saved (if he is) by belief – the key scene in the film takes place in Church, right?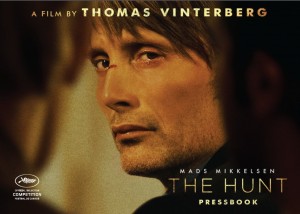 I don't usually like films with messages but the continuing witch-hunts against celebrities in the UK and Prime Minister Cameron's November 2012 appearance on ITV with Philip Schofield confronting him with a blacklist of names of supposed paedophile politicians he'd found after 'about three minutes' trawling the Internet just show how important The Hunt's message is. We can't run a society on gossip and innuendo. We have to leave the law to the law.
Apparently, it's so easy to behave like characters in The Hunt. This is how America was in the 40s and 50s with the Communist paranoia and un-American Activities Committee. The Hunt is hugely valuable as a seriously engage-brain message movie as well as just a movie.
Check out more reviews on derekwinnert.com
(C) Derek Winnert derekwinnert.com