The Hound of the Baskervilles **** (1939, Basil Rathbone, Nigel Bruce, Richard Greene, Wendy Barrie, John Carradine) – Classic Film Review 314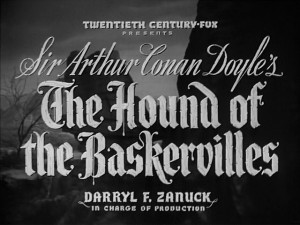 Made by little-known B-movie director Sidney Lanfield in 1939 for executive producer Darryl F Zanuck's 20th Century Fox studio, this most famous and distinguished version of the classic Sir Arthur Conan Doyle novel was already its fourth filming.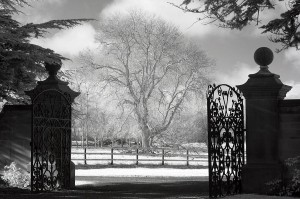 Most memorable as the historic first appearance together of Basil Rathbone and Nigel Bruce as Sherlock Holmes and Dr Watson, the movie still proves a delightful vintage mystery treat. Thankfully, it's all done in a well-crafted, respectful and believable way, summoning up the true Conan Doyle spirit.
It is the first of their 14 movies together and is also notable as the first Holmes film set in the Victorian period of the original stories.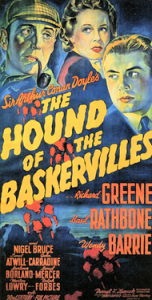 It's helped enormously by an intelligent, literate screenplay (by Ernest Pascal), atmospheric cinematography (Peverell Marley) and handsome production designs (the studio art direction's by Richard Day and Hans Peters). It races satisfyingly along at an enjoyable pace, and is all done and dusted in a crisp 80 minutes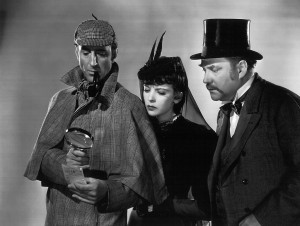 The handsome 21-year-old Richard Greene (later, of course, to find his proper niche, fame and fortune as 50s TV's Robin Hood) is top-star billed as the young heir Sir Henry Baskerville. Unfortunately Greene gives a rather callow, wooden and unexciting performance, but then he is battling a rather passive part and it doesn't damage the film, merely allowing all the attention to go to Holmes and Watson, where it should be anyway, of course.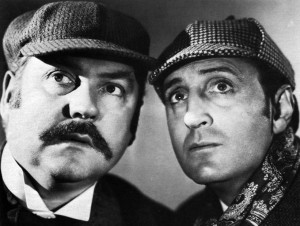 It's 1889, and Sir Henry returns from service abroad in the British colonies to assume his title after his predecessor is murdered and goes to live in the ancestral mansion bequeathed to him by his uncle. But opening up the old hall might not have been such a great idea. It soon turns out that there's a dastardly plot afoot.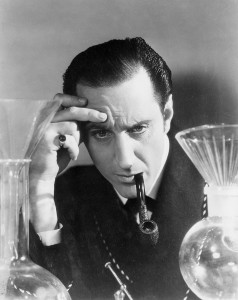 The eerie estate on the desolate Devonshire moors is troubled by the local so-called 'ridiculous hound legend', a supposed terrible supernatural beast that may be stalking the fog-shrouded moorland that makes up the Baskerville estate. But then there's a murder, and Sir Henry wisely calls in Sherlock Holmes to help. Holmes arrives with Dr Watson, and eventually they uncover a plot to kill the new knight by a villain who is after getting hold of the family's riches.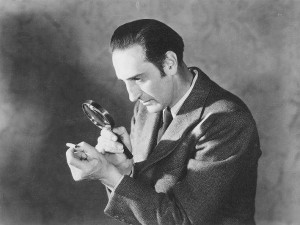 Nigel Bruce's fussy performance as Dr Watson isn't at all the character of the books but nevertheless it's highly entertaining and engaging. Bruce doesn't make it too comic here, as he did later on. And, he is still the ideal accompaniment to the quite brilliant, incomparably smooth and commanding performance of the intimidating, patrician Rathbone, who makes the perfect Holmes in the definitive screen interpretation of the character. He still is the finest Holmes in the movies. On TV, only Jeremy Brett and Benedict Cumberbatch can be considered any kind of rival.
Wendy Barrie doesn't make much of an impression as the heroine, Beryl Stapleton, but John Carradine does as the creepy servant Barrymore and so does Lionel Atwill as Dr James Mortimer. [Atwill re-appeared with the stars as Holmes's arch-enemy and super-villain, Professor Moriarty in Sherlock Holmes and the Secret Weapon.]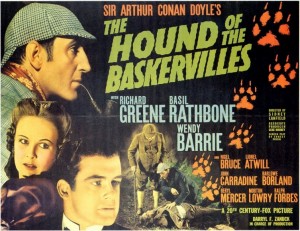 It took the Fox studio by surprise by being incredibly popular and they responded by hiring the star duo for a quick sequel, The Adventures of Sherlock Holmes (also 1939), and then a long series of 12 more Holmes and Watson movies that followed over the next seven years. Rathbone also did numerous radio broadcasts as Holmes during this time, but feeling the character was killing his film career, he went back to Broadway in 1946 and won a Tony Award for his portrayal of Dr Sloper in The Heiress.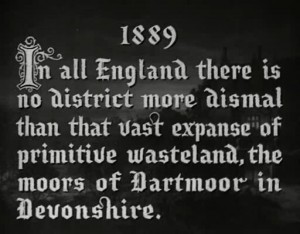 Rathbone (1892-1967) traded on being the epitome of the suave Englishman but he was actually born in Johannesburg, South Africa.
Remade in Britain in 1959 with Peter Cushing, André Morell and Christopher Lee.
http://derekwinnert.com/the-hound-of-the-baskervilles-classic-film-review-313/
© Derek Winnert 2013 Classic Movie Review 314
Check out more reviews on http://derekwinnert.com