The Hollywood Revue of 1929 **** (1929, Jack Benny, Buster Keaton, Joan Crawford, John Gilbert, Norma Shearer, Stan Laurel, Oliver Hardy, Marion Davies) – Classic Movie Review 6297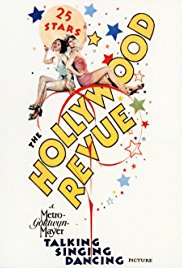 The MGM studio throws all its contract stars it could find (with the notable exception of Greta Garbo) into director Charles F Reisner's 1929 all-star hit movie revue (the concept was obviously then in vogue) that swaps telling a story for a parade of turns by the performers. It is advertised as ' 25 of the screen's greatest stars – chorus of 200 – amazingly revolutionary motion picture!'
There is a huge clutch of 17 songs, among them 'Singin' in the Rain' performed by Marie Dressler, Bessie Love and Polly Moran. Jack Benny as the entertainment's MC, Buster Keaton doing an Egyptian dance and Stan Laurel and Oliver Hardy funny (as always) as bumbling magicians lead the comedy.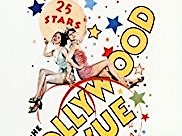 John Gilbert and Norma Shearer are also funny sending up Romeo and Juliet. Also appearing are Joan Crawford, Marion Davies, Lionel Barrymore, Marie Dressler, Bessie Love, Polly Moran, George K Arthur, Karl Dane, Ann Dvorak, William Haines, Conrad Nagel, Anita Page, Charles King and Cliff Edwards.
Much of it was shot through the night because the stars were simultaneously employed on making other movies and they didn't want to give up the day job, ot MGM didn't want them to, anyway.
It is shot in black and white by John Arnold, Irving G Ries and Maximilian Fabian, but there is lovely two-tone Technicolor for song sequences. It runs 130 minutes, with the cut version at 116 minutes.
It is written by Al Boasberg and Robert E Hopkins, produced by Harry Rapf and Irving Thalberg, scored by Arthur Lange, designed by Erté and choreographed by Sammy Lee.
Shearer eventually starred with Leslie Howard in Romeo and Juliet in 1936.
© Derek Winnert 2017 Classic Movie Review 6297
Check out more reviews on http://derekwinnert.com