The Hitman's Bodyguard ** (2017, Ryan Reynolds, Samuel L Jackson, Gary Oldman, Salma Hayek, Richard E Grant, Elodie Yung) – Movie Review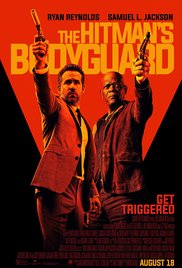 Ryan Reynolds and Samuel L Jackson are a great double act as the world's top bodyguard and his new hit man client, whom he must get to the International Court of Justice on time to testify against a dictator.
First the good news. Patrick Hughes directs this scrappy but gleefully exuberant 2017 action comedy with great gusto, and Tom O'Connor writes some fun situations and many funny lines of dialogue for Reynolds as Michael Bryce and Jackson as Darius Kincaid to chew over and spit out. Very much taking its cue from Deadpool, it is very dark toned, violent, foul-mouthed, nasty and unpleasant, but it is entertaining.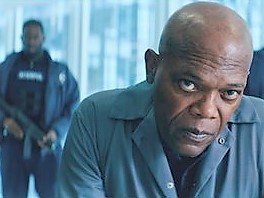 With the comedy well taken care of by the wittily bickering and bantering Reynolds and Jackson, Hughes directs some impressive-looking action, with edgy, well-staged combat and chase scenes. Jackson, by the way, is a bit of a force of nature and 68 and nips around like a man half his age.
And Salma Hayek has quite a good time too as the jailed Mrs Sonia Kincaid, spouting so much bad language that everyone will want to blush. Nevertheless, extreme extended cameo though it may be, it works and again is funny.
So much for the good news. The bad news is the plot is always fairly useless and eventually unsatisfyingly hopeless, just a peg to hang the gags, the action and the knockabout violence on. That is a shame because there is the basis of something much better and classier, and more successful, here.
Then Gary Oldman is quite hammy and actually awful as the Russian super-villain, Vladislav Dukhovich. Admittedly the part is lousy, but then so is Oldman here on one of his off days. Richard E Grant is no better as Seifert, but he gets away with it more as he has so little screen time. But, really, his campy, slapsticky comedy stuff is way off key. Elodie Yung is wasted and pointless as Amelia Roussel.
You obviously need to have the super-villain character, but the role needs re-writing and recasting. The other characters you could simply drop. The film is all about Reynolds and Jackson anyway, and, when they are centre stage on screen, which is most of the time, the film flies and the time flies by.
There are lots of worse films around than The Hitman's Bodyguard, and Reynolds and Jackson are good bad-bloke company, always game for a laugh, so let us be kind and say it is at least OK, and good for a laugh. I like it that Reynolds and Jackson like to be out there and push envelopes, but some of their preferred comedy of pain isn't really funny, guys. And making entertainment out of the idea of terrorism in Amsterdam is way dodgy right now.
It is filmed in London, Amsterdam and Sofia, Bulgaria, so not quite globe-trotting then, but trotting anyway.
© Derek Winnert 2017 Movie Review
Check out more reviews on http://derekwinnert.com