The Heat – Film Review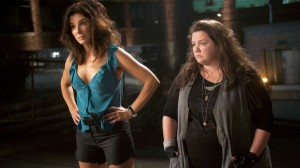 The Heat is a carefully concocted and expertly delivered comedy, targeted effectively at an older, female audience. It's The Hangover aimed at women. It's not a masterpiece of comedy but it is funny for fans of Sandra Bullock and Melissa McCarthy, showing good screen chemistry and working their butts off, in tailor-made roles.
Sandra's cast as a ridiculously uptight and competent but sad and lonely FBI agent called Sarah Ashburn. Nobody likes her at work or at home. Well, there's nobody at her home, except a cat she's stolen and who leaves her in disgust.
To win an FBI promotion, she's sent to Boston and forced to work with Melissa's foul-mouthed Boston cop Shannon Mullins to discover the identity of an elusive drug lord. Ashburn and Mullins don't see eye to eye, big time, but agree to a truce to bring the drug lord to justice. And that's really all for about two hours.
It's entirely The Sandra and Melissa Show. No one else gets a look in. Not any of the really good actors they've employed. Not Marlon Wayans as the cop who fancies Sandra, not Michael Rapaport as Melissa's jail-bird brother or Jane Curtin as her mom. No one. So it's just as well that The Sandra and Melissa Show is well written, with plenty of gags, most of them firing rather than misfiring, and that it's just as well performed.
Despite all the swearing, guns and violence, the movie has a very old fashioned feel to it. It has a cosy soft centre and tries for a warm heart. You're even supposed to get to love Melissa's uber-abrasive character, in the same way that Sandra falls for her. But this is a tad uncomfy. I can accept that Melissa's character is a rude, violent, frustrated son-of-a-gun, but not that she's lovely deep inside.
Fans of Miss Congeniality will love it. Sandra's character is more or less the same one as there, just a bit older. Sandra is an incredibly skill comedy performer, but you can see the joins in her performance, notice her working, see her stretching for her laughs.
She's the star, but she plays second fiddle, straight woman, to Melissa's turn. That makes things hard for Sandra, and easier for Melissa. She's just 'look at me, aren't I funny?' like an over-demanding child. Frankly, she just doesn't stop. Once or twice, you could just beg her to shut up. But that's the part, and Melissa does it as well as anyone ever could.
Why are we allowed to laugh repeatedly at gags against an albino character? Melissa gleefully assumes that Craig (Dan Bakkehl) is the villain because he's an albino. Dodgy that. But the movie says that it's OK because he's an anti-women chauvinist. I don't think this where feminism is supposed to have got us. It comes as no surprise when Sandra and Melissa end up calling each other sisters. Now that's much better!
(C)  Derek Winnert 2013 derekwinnert.com