The Hard Word *** (2002, Guy Pearce, Rachel Griffiths, Robert Taylor, Joel Edgerton, Damien Richardson) – Classic Movie Review 4889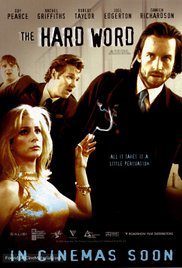 For some reason sporting a weird prosthetic nose, Guy Pearce leads this in-your-face but jovial, old-style caper thriller about three crook brothers, Dale, Shane and Mal Twentyman (Pearce, Joel Edgerton, Damien Richardson).
The three fraternal bank robbers are released out of jail simultaneously by their bent lawyer Frank Malone (Robert Taylor) in collusion with the cops to nab a bookies' takings at the Melbourne Cup races.
Naturally the perfect heist soon goes wrong, in this case thanks to some trigger-happy British wildcard whom the lawyer has brought in.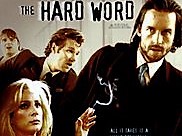 Writer-director Scott Roberts's 2002 thriller is entertaining, though perhaps not quite special or stylish enough. It plays like a solid B movie, and will be more at home on TV than on the cinema screen. The ending is a bit of a letdown cop-out, but there are strong and exciting sequences throughout, and it does have an oddly engaging, sly sense of humour.
Rachel Griffiths makes a striking impression, co-starring as Pearce's duplicitous wife, Carol. There is plenty of strong language and strong violence in Scott Roberts's 18-certificate screenplay.
Also in the cast are Rhondda Findleton, Kate Atkinson, Vince Colosimo, Paul Sonkkila, Kim Gyngell, Dorian Nkono and Stephen Whittaker.
The title refers to the type of Aussie slang the protagonists use to communicate with each other in prison or on a job – an old-time butchers language.
By 2017, it is Roberts's only feature as director.
© Derek Winnert 2017 Classic Movie Review 4889
Check out more reviews on http://derekwinnert.com