The Graduate ***** (1967, Dustin Hoffman, Anne Bancroft, Katharine Ross) – Classic Movie Review 216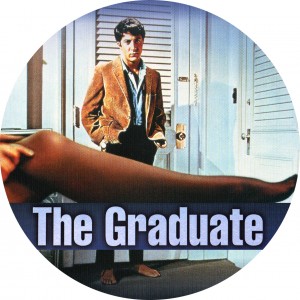 'Would you like me to seduce you? Is that what you're trying to tell me?'
And here's to you, Mrs Robinson!

At her most stylish and beautiful, a sensational Anne Bancroft enjoys her most famous role as the sexy but terminally bored married older woman Mrs Robinson. The ultimate cougar, she sets out to seduce the callow, simple-minded graduate Ben Braddock (Hoffman) when he returns to the California home and empty lives of his affluent parents (William Daniels, Elizabeth Wilson).

Already 30 but looking much, much younger, Dustin Hoffman propels himself to stardom in an ingratiating performance of twitchy nervousness. Although it has to be said that, much later in the film, he's a bit less appealing when the conservative-minded script makes his character realise that he's really attracted to her pretty but anaemic young daughter Elaine (Katharine Ross), and he must race off to stop her wedding to some other guy.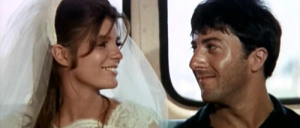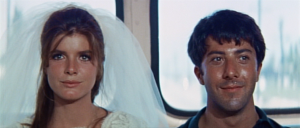 Mike Nichols won a deserved Best Director Oscar (the film's only Academy Award) for this brilliantly clever, funny and affecting 1967 film, based on the highly regarded novel by Charles Webb. The movie's witty writing boasts the most poignant situation and incisive dialogue. Calder Willingham and Buck Henry's screenplay, the sharp character acting and of course the famous Paul Simon and Art Garfunkel score (Sounds of Silence, Scarborough Fair, Mrs Robinson) make this a highly memorable, ultra-special experience.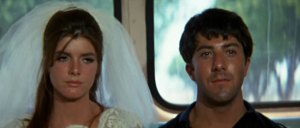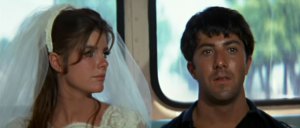 Despite the slightly flat and frankly a bit silly last reel, it's still a 60s classic. The first three-quarters is awesome. No offence, but anybody would be mad to chose Ross over Bancroft as seen here in 1967.


Murray Hamilton is also a quiet sensation as Mr Robinson. Blink and you'll miss Richard Dreyfuss (with one line), Ben Murphy (Alias Smith and Jones) and Mike Farrell (MASH). Buck Henry's got a role as the room clerk.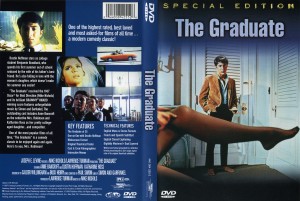 Kathleen Turner, then Jerry Hall, Molly Ringwald and Amanda Donohoe starred in a belated hit stage version in London's West End in 2000.
(C) Derek Winnert 2013 Classic Film Review 216 derekwinnert.com