The Gospel According to Matthew [Il Vangelo Secondo Matteo] **** (1964, Enrique Irazoqui, Margherita Caruso, Susanna Pasolini, Marcello Morante, Mario Socrate) – Classic Movie Review 4135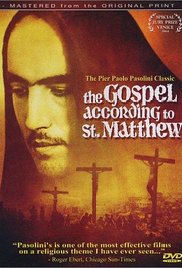 Writer-director Pier Paolo Pasolini's challenging and outstanding 1964 film is a beautiful, moving, masterly version of the life of Jesus Christ from an unexpected film-maker, who provocatively sees the story from a Marxist viewpoint and boldly shares his intellectual and poetic vision.
The Italian Neo-Realist filming style, the interpretation of Jesus as a downtrodden peasant with Pasolini showing the human side of Christ, and the casting of non-professional actors all combine to work perfectly, provoking the thought and controversy that Pasolini intended. Pasolini shows the human side of Matthew (Ferruccio Nuzzo) too, and doesn't view him as Saint Matthew. So the film is very much called The Gospel According to Matthew, though it is often mistakenly retitled The Gospel According to St Matthew.
Following his Marxist and Neo-Realist viewpoint, Pasolini casts local peasants, shopkeepers, factory workers, and truck drivers. Undecided who to cast as Jesus – Jack Kerouac maybe or Allen Ginsberg possibly – it was by chance that Pasolini met Enrique Irazoqui, a Spanish student of literature, who had written a thesis about his novel Ragazzi di Vita and decided to cast him as Christ.
Mario Socrate plays John the Baptist, Marcello Morante plays Joseph, Margherita Caruso plays the younger Mary and the director casts his mother Susanna Pasolini as the older Mary at the time of the Crucifixion.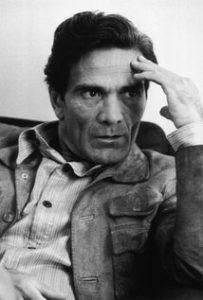 It was shot in striking black and white by cinematographer Tonino Delli Colli on location in Calabria, Apulia, Sicily and Lazio, as well as in the Incir De Paolis Studios, Rome. with backing from the Roman Catholic Church, which would by no means remain a supporter of the provocative gay director.
Also in the cast are Settimo Di Porto, Otello Sestili, Giacomo Morante, Alfonso Gatto, Alessandro Clerici, Luigi Barbini and Ninetto Davoli (shepherd).
It was co-winner of the Special Jury Prize at the Venice Film Festival in 1964 and nominated for three technical Oscars: Best Art Direction-Set Decoration, Black-and-White (Luigi Scaccianoce), Best Costume Design, Black-and-White (Danilo Donati) and Best Music, Scoring of Music, Adaptation or Treatment (Luis Bacalov).
It runs  edited version, available on DVD in a colorized version.
When Christ is taken down from the cross, a car can be seen driving around a corner in the distance.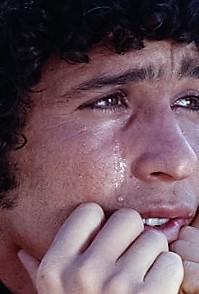 Ninetto Davoli was born on October 11, 1948 in San Pietro a Maida, Calabria. He is known for Pasolini's Arabian Nights (1974), The Decameron (1971), The Hawks and the Sparrows (1966) and the 2014 film Pasolini.
© Derek Winnert 2013 Classic Movie Review 4135
Check out more reviews on http://derekwinnert