The Girl from 10th Avenue *** (1935, Bette Davis, Ian Hunter, Colin Clive, Katherine Alexander, Alison Skipworth, John Eldredge, Phillip Reed) – Classic Movie Review 6301
Director Alfred E Green's smart and amusing 1935 drama features excellent work from its star Bette Davis and nimble, fast-paced handling from the director, which help to lift this entertaining soap opera in which Davis plays s a nice girl (for a change) – shop girl Miriam A Brady.
She saves a total stranger, rejected boozy attorney Geoff Sherwood (Ian Hunter), who is got drunk after his fiancée Valentine Marland (Katherine Alexander) ditches him for another, and they find themselves married to one another. Sobering up, they plan to try wedded life, only to discover his old flame Valentine – herself now married – is buzzing round the honey-pot of old Geoff again.
Written by Charles Kenyon (adaptation), and based on the play by Hubert Henry Davies that opened in New York on 2 November 1914, this short (just 69 minutes) Warner Bros film is an undeservedly forgotten entry in Bette Davis's remarkable CV.
Also in the cast are Colin Clive, Alison Skipworth, John Eldredge, Phillip Reed, Helen Jerome Eddy, Bill Elliott, Edward McWade, Adrian Rosley, André Cheron, Bess Flowers, Brooks Benedict, Sam Ash, Heinie Conklin, Edgar Norton, Jack Norton, Charles Fallon, James Donlan, John Quillan, Matty King, Mary Treen and Dick Winslow.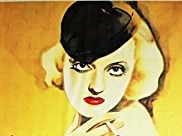 It is shot in black and white by James van Trees, Robert Lord and Henry Blanke, scored by Heinz Roemheld and designed by John Hughes.
Phillip [Philip] Reed (1908–1996) made another Davis film, Old Acquaintance (1943), and was also known for Song of the Thin Man (1947), Big Town After Dark (1947) and his last movie, Elvis Presley's Harum Scarum (1965).
© Derek Winnert 2017 Classic Movie Review 6301
Check out more reviews on http://derekwinnert.com