The Giant Gila Monster ** (1959, Don Sullivan, Lisa Simone, Shug Fisher, Ken Knox, Fred Graham) – Classic Movie Review 4411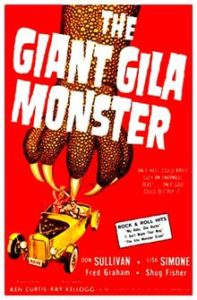 Director Ray Kellogg's low-budget 1959 sci-fi monster movie stars Don Sullivan, Lisa Simone,  Shug Fisher (as the comedy relief) and KLIF disc jockey Ken Knox. Of course it is pretty bad, but it is a fun Fifties B-movie cult classic.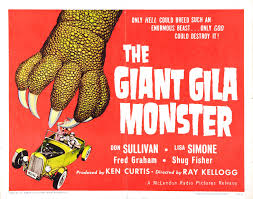 Teens are missing and evidence is found of the giant lizard. But it is only when the hungry reptile attacks a train that the local sheriff (Fred Graham) realises he is dealing with a 70-foot poisonous lizard!
Kellogg was allowed to write the story (screenplay by Jay Simms) and direct the film in exchange for doing his usual job of special effects, which include a live Mexican beaded lizard filmed on a scaled-down model landscape for the Gila monster and a model train set standing in for the train the lizard attacks.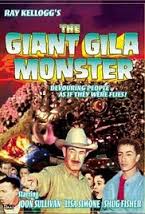 Ken Curtis produced it for Dallas drive-in theatre chain owner Gordon McLendon, who wanted co-features for his main attractions, but, though released in the South, they got national US distribution.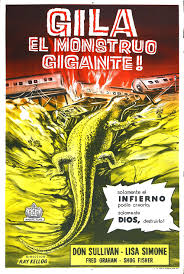 It was shot near Dallas, Texas, for $175,000 back to back with The Killer Shrews. the first feature films filmed in and produced in Dallas, and supposedly the first movies to premiere as double features.
Curtis allowed Sullivan to pick the songs directed to teenagers.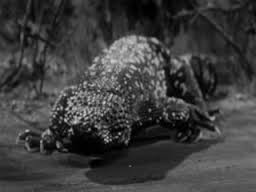 Ken Knox, who plays Horatio Alger 'Steamroller' Smith, was a disc jockey working at Texas radio stations owned by McLendon.
Lisa Simone was the French contestant for Miss Universe of 1957.
© Derek Winnert 2016 Classic Movie Review 4411
Check out more reviews on http://derekwinnert.com