The Ghoul ** (1975, Peter Cushing, John Hurt, Alexandra Bastedo) – Classic Movie Review 2906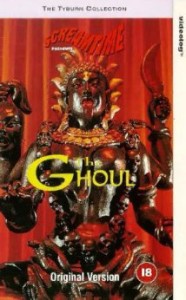 Director Freddie Francis's 1975 British horror movie is an unusual, strenuous tale of terror in the attic, with the odd imaginative touch glittering among a generous helping of horror-movie clichés.
Anthony Hinds's plot is certainly weird enough as travellers are forced to stay at the remote rural English house of defrocked priest Doctor Lawrence (Peter Cushing) who has a horrible secret in his attic. It is the cell for his crazed adult son, who became a cannibal while his father was a missionary in India. Soon. of course, the travellers are being attacked by a flesh-devouring monster.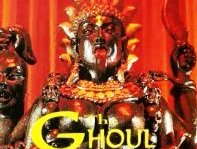 Unfortunately, Hinds provides an under-developed yarn that is full of missed opportunities. But Cushing, John Hurt as the mad gardener Tom Rawlings, Alexandra Bastedo as the heroine Angela and Gwen Watford as Ayah, the traditional Mrs Danvers-style evil housekeeper, keep it going through the swirling mists until the gorily exciting climax.
Also in the cast are Veronica Carlson, Don Henderson, Ian McCulloch, Dan Meaden, Stewart Bevan and John G Collins.
Hinds wrote the screenplay under his usual pseudonym of John Elder. It has no relation to the 1933 Boris Karloff horror movie of the same title. It was made at Pinewood Studios, Iver Heath, Buckinghamshire, England.
A ghoul is a monster or evil spirit in Arabian mythology, associated with graveyards and consuming human flesh.
© Derek Winnert 2015 Classic Movie Review 2906
Check out more reviews on http://derekwinnert.com