The Ghoul *** (1933, Boris Karloff, Ernest Thesiger, Ralph Richardson, Kathleen Harrison, Cedric Hardwicke) – Classic Movie Review 2905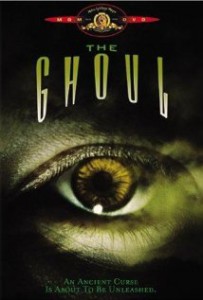 Director T Hayes Hunter's 1933 horror movie finds Boris Karloff returning in triumph to Britain after Frankenstein turned him into a star in Hollywood.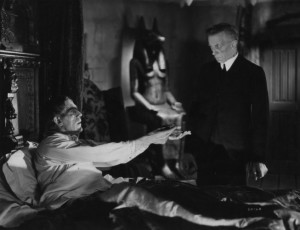 He gives a rousing turn as the misguided Professor Henry Morlant, an Egyptologist who dies with a sacred jewel in his hand vowing to arise from the grave if it is stolen. Harold Huth plays Aga Ben Dragore, an enigmatic knife-wielding Egyptian seeking the jewel that has been stolen from an ancient tomb.
The thief tells him he sold it to Professor Morlant, who is dying from a disfiguring disease. After Morlant's burial in an Egyptian-style tomb on his estate, an unknown robber steals the jewel from his corpse. The Egyptologist then fulfils his vow and returns from the dead to take revenge on the tomb raiders.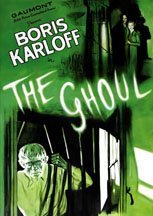 Despite a hesitant pace, this chiller is great, eerie fun all round, with Karloff matched by a cast of equally distinguished eccentric performers like Ernest Thesiger (as the club-footed servant Laing), Ralph Richardson (in his film début as phoney parson Nigel Hartley), Kathleen Harrison (as Kaney) and Cedric Hardwicke (as crooked lawyer Broughton).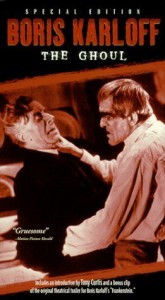 Also in the cast are Dorothy Hyson, Anthony Bushell, D A Clarke-Smith and Jack Raine.
The six credited writers include Frank King, Leonard Hines, on whose novel and play the film is based, as well as L DuGarde Peach, Roland Pertwee, John Hastings Turner and Rupert Downing.
Karloff and Thesiger acted together in Bride of Frankenstein (1935). Almost 25 years after his death, Karloff appeared in archive footage taken from the film in the opening credits of Weird Science (1994).
When Karloff returned to England to shoot The Ghoul, it was the first time in nearly 25 years that he returned to his home country and reunited with his family. It was Karloff's first British feature. His last is Curse of the Crimson Altar in 1968.
http://derekwinnert.com/curse-of-the-crimson-altar-1968-boris-karloff-christopher-lee-barbara-steele-michael-gough-virginia-wetherell-rupert-davies/
http://derekwinnert.com/the-bride-of-frankenstein-classic-film-review-32/
© Derek Winnert 2015 Classic Movie Review 2905
Check out more reviews on http://derekwinnert.com