The Ghost Breakers **** (1940, Bob Hope, Paulette Goddard, Paul Lukas, Willie Best, Richard Carlson, Lloyd Corrigan, Anthony Quinn) – Classic Movie Review 4428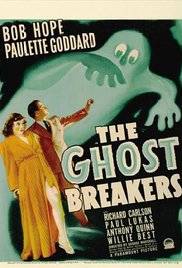 Director George Marshall's 1940 comedy thriller re-teams Bob Hope and Paulette Goddard in another hit follow-up to their very similar 1939 success  The Cat and the Canary.
One of the best examples of the classic Hollywood horror comedy, it is a great fun Hope chiller in exactly The Cat and the Canary vein and quality, with buffoonish Bob joining up with spunky Goddard to investigate her newly bequeathed spooky Cuban home.
Goddard plays Mary Carter, who inherits her family's supposed haunted  ancestral castle on a small island off Cuba. Mary is joined there by radio broadcaster Larry Lawrence (Hope) who has fled New York with his scared butler Alex (Willie Best) thinking that he has killed a mob gunman. They meet a ghost, a zombie and then a human foe.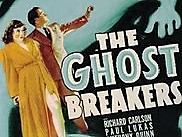 The Ghost Breakers is chock-full of spirits, phantoms, ghosts and ghoulies, as well as plenty of mystery, eerie atmosphere and suspense, as well as guffaws and giggles.
The castle is called Castillo Maldito, Castle of the Damned.
Also in the cast are Paul Lukas, Willie Best, Richard Carlson, Lloyd Corrigan, Anthony Quinn, Pedro de Cordoba, Virginia Brissac (as Mother Zombie), Noble Johnson (as The Zombie), Tom Dugan and Paul Fix.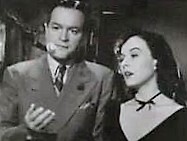 Walter DeLeon's screenplay is based on Paul Dickey's and Charles W Goddard's play The Ghost Breaker.
Hope briefly sings his signature tune, Thanks for the Memory (music by Ralph Rainger, lyrics by Leo Robin).
It was filmed twice before as silent movies in 1914 and 1922, and it was remade as Scared Stiff in 1953.
© Derek Winnert 2016 Classic Movie Review 4428
Check out more reviews on http://derekwinnert.com