The Gay Sisters *** (1942, Barbara Stanwyck, George Brent, Geraldine Fitzgerald, Nancy Coleman, Donald Crisp, Anne Revere, Gig Young, Gene Lockhart) – Classic Movie Review 5173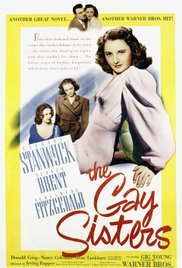 Or, actually, The Gaylord Sisters. Barbara Stanwyck, Geraldine Fitzgerald and Nancy Coleman star as three sisters –Fiona, Evelyn and Susanna 'Susie' Gaylord  – who are in a fight to save their New York City Fifth Avenue mansion home, after their parents die, mother on the Lusitania, father in wartime France.
That leads to Stanwyck's Fiona secretly marrying Charles Barclay (George Brent) for his money. But then he tries to grab hold of the property for redevelopment. Fiona ('I hate common sense, it's so common') swears that that eventuality would be over her dead body.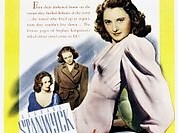 Director Irving Rapper's 1942 romantic melodrama tells a soapy, overlong-seeming tale, with the fine stars, stylish direction and strong Warner Bros production values lifting the movie but an under-powered script and too many nondescript performances holding it back. However, the three splendid female leads and the plush production keep it extremely watchable. Actor Byron Barr thereafter changed his name to Gig Young after his character's name in this film.
Lenore J Coffee's screenplay is based on Stephen Longstreet's novel. Sol Polito shoots in black and white, Henry Blanke produces, Max Steiner scores and Robert M Haas designs the sets.
It also stars Donald Crisp, Anne Revere, Gene Lockhart, Grant Mitchell, Donald Woods and Larry Simms.
Also in the cast are William T Orr, Helene Thimig, George Lessey, Charles Waldron, Frank Reicher, David Clyde, Mary Thomas, Murray Alper, Hobart Bosworth, Sidney Bracey, Joseph Crehan, Frank Darien, Charles Drake, Bill Edwards, Sarah Edwards, Mary Field, George Meeker, Jack Mower, Inez Palange, Garry Owen and Hank Worden.
The Fiona part was offered to Bette Davis, who memoed studio boss Jack L Warner: 'I do wish you'd give The Gay Sisters to someone else.' Davis was right about the script but Stanwyck makes the role her own, and memorably so. Mary Astor was considered for Evelyn but luckily for her was assigned her classic role in The Maltese Falcon (1941) instead.
© Derek Winnert 2017 Classic Movie Review 5173
Check out more reviews on http://derekwinnert.com