The Gamma People ** (1956, Paul Douglas, Eva Bartok, Leslie Phillips) – Classic Movie Review 4415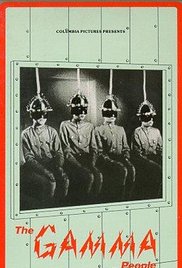 Director John Gilling's interesting and elaborate, but rather undigested and muddled 1956 British sci-fi movie stars Walter Rilla as crazy scientist Boronski, who is attempting to create a stream of brilliant children by blasting them with gamma rays. This fast-track intervention certainly beats the slow, boring job of having to teach them! Boronski is working for the mad local Iron Curtain dictator to create mutated henchmen by transforming the country's youth into geniuses or subhumans.
Paul Douglas and Leslie Phillips are the main stars as travelling newsmen, American reporter Mike Wilson and his photographer Howard Meade, whose passenger car by chance breaks away from their train, ending up on a sidetrack. They are stranded and stop over in Boronski's isolated Ruritanian-style small town of Gudavia, where they smell a story when they find the mad scientist, start snooping around and are arrested as spies.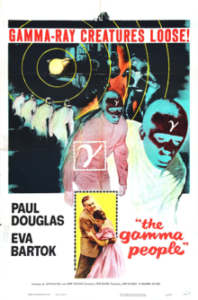 However, after they are released, they are met by a woman called Paula Wendt (Eva Bartok), who tells them her brother Hugo (Michael Caridia) has been made a super-brain by Boronski. They set out to report the story and to try to stop Boronski and the dictator.
Despite the intriguing premise based on a story by Louis Pollock, there are hardly any thrills or good acting to report here. Gilling's and John Gossage's screenplay has huge problems sorting out all its many strands and issues, and the obviously tiny budget helps to sink it further. Nevertheless, it stays interesting for all its mind-bending ideas.
Also in the cast are Martin Miller, Pauline Drewett, Jackie Lane, Leonard Sachs, Paul Hardtmuth, Cyril Chamberlain, John Stuart, Philip Leaver and Rosalie Crutchley.
It evolved from a script written in the early Fifties by Robert Aldrich.
© Derek Winnert 2016 Classic Movie Review 4415
Check out more reviews on http://derekwinnert.com