The Fuller Brush Girl *** (1950, Lucille Ball, Eddie Albert, Carl Benton Reid) – Classic Movie Review 5705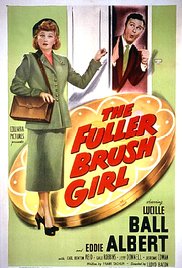 Lucille Ball sweeps to success as Sally Elliot, a door-to-door make-up salesperson, trying to sell cosmetics door-to-door, but soon up to her neck in homicide when one of her customers is murdered and she is prime suspect, in director Lloyd Bacon's fun 1950 crime comedy.
Sally wants to settle down with her nice but thick fiancé Humphrey Briggs (Eddie Albert), but instead the duo have to run from the cops and Ball's Sally has to do increasingly silly things like stripping in a tease-show.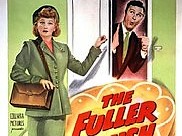 It is a lively farcical comedy thriller that gets its laughs, mainly thanks to the bouncy Ball's unstoppable, infectiously exuberant turn, but also because of Albert's cleverly deployed comedy skills.
Frank Tashlin's screenplay is genuinely witty and the movie can boast some seriously funny highlights.
Red Skelton, the star of the film's 1948 predecessor, The Fuller Brush Man, makes a quick cameo appearance.
Also in the cast are Carl Benton Reid, Gale Robbins, Jeff Donnell, John Litel, Jerome Cowan, Lee Patrick, Fred Graham, Arthur Space, Sid Tomack, Billy Vincent, Lorin Raker, Lelah Tyler, Sarah Edwards, Lois Austin, Isabel Randolph, Isabel Withers, Barbara Pepper, Paul Bryar, Jean Wiles, Frank Wilcox, Syd Saylor, Paul E Burns, Val Avery, Cliff Clark, Joseph Crehan, and Myron Healey.
It was re-titled in the UK The Affairs of Sally, as the British did not know much about the Fuller Brush Girl.
© Derek Winnert 2017 Classic Movie Review 5705
Check out more reviews on http://derekwinnert.com