The Fugitive **** (1993, Harrison Ford, Tommy Lee Jones, Sela Ward) – Classic Movie Review 597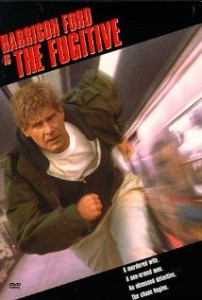 Harrison Ford teaches a masterclass in acting grim in David Janssen's famed Sixties TV role as the fugitive Dr Richard Kimble in director Andrew Davis's thrilling 1993 action movie, motoring on terrific suspense, relentless pace and dynamic energy.
Highly respected Chicago surgeon Kimble is wrongly convicted of murdering his wife at their house after being found at the crime scene by the police. He's sentenced to death but on the way to prison his transport crashes, and he escapes from custody to track down the one-armed man who broke into his home and killed his wife.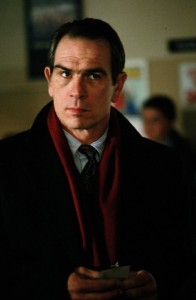 With the best part and all the wryly amusing dialogue, Best Supporting Actor Oscar-winner Tommy Lee Jones effortlessly steals the movie from the over-earnest star in a vastly entertaining turn as Gil Gerard, the US Deputy from Chicago who leads the relentless pursuit of the fugitive. While desperately trying to evade capture, Kimble makes his own inquiry into who really killed his wife, and tries to lure Gerard and his team into his investigation.
The film is realistic, tough and hard-hitting, but with an undercutting sly sense of humour and some spectacular action sequences that really belong only to the movies. The villain is easy to spot early on but, no matter, the tension consists in the how, why and who dunit.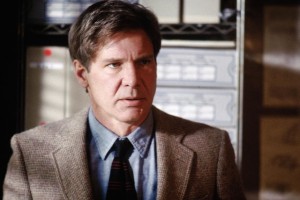 Andrew Davis's direction is admirably taut and controlled over an epic, 130-minute chase movie that has plenty of highspots and a varied pace that never flags. The bus-train wreck at the start is superbly done (for real) and, though nothing ever tops it, there are impressive set pieces throughout the movie. Chicago makes a lively backdrop, and it's fully exploited by the film-makers, notably in the St Patrick's Day parade sequence.
Jones reprised his Gerard role in the Harrison Ford-less sequel, US Marshals (1995).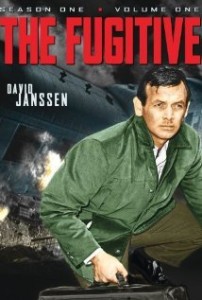 Roy Huggins created the classic TV series that ran from 1963 to 1967, with David Janssen, William Conrad and Barry Morse.
Davis also made two other fine films in Under Siege and A Perfect Murder.
© Derek Winnert 2013 Classic Film Review 597
Check out more reviews on derekwinnert.com