The Four Skulls of Jonathan Drake *** (1959, Henry Daniell, Eduard Franz, Valerie French, Grant Richards, Paul Cavanagh) – Classic Movie Review 5300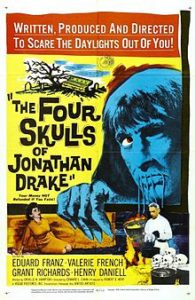 Director Edward L Cahn's 1959 horror movie is a high-gear low-budget black-and-white horror film chiller, with on-form players Henry Daniell, Eduard Franz, Valerie French, Grant Richards, and Paul Cavanagh starring in an amusingly absurd tale from the Amazon jungle.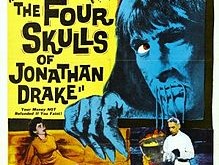 Orville H Hampton's screenplay is about an anthropologist university professor Jonathan Drake (Eduard Franz), specialising in the occult, battling head hunter Dr Emil Zurich's ancient curse on his family with the help of his daughter Alison (Valerie French) and a police lieutenant, Rowan (Grant Richards). The miraculously resurrected Zurich and zombie Zutai plot their vengeful plan to murder and behead Jonathan Drake.
Main star Henry Daniell is in fine fettle as the nutty Swiss villain Dr Emil Zurich, Paul Cavanagh plays Drake's brother, Kenneth, Paul Wexler is the tribal witch doctor Zutai, and Howard Wendell (as Dr Bradford), Lumsden Hare (as Rogers) and Frank Gerstle (as Coulter) are also in the cast.
It was packaged with Invisible Invaders (1959).
Cahn also directed Creature with the Atom Brain (1955), Invasion of the Saucer Men (1957) and Curse of the Faceless Man (1958).
© Derek Winnert 2017 Classic Movie Review 5300
Check out more reviews on http://derekwinnert.com