The Flight of the Phoenix **** (1965, James Stewart, Richard Attenborough, Peter Finch, Hardy Krüger, Ernest Borgnine, Ian Bannen, Ronald Fraser, Christian Marquand, Dan Duryea, George Kennedy) – Classic Movie Review 1088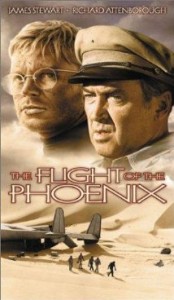 Producer/director Robert Aldrich's 1965 film finds him on safe ground with a highly enjoyable and satisfying, character-driven disaster-survival movie, in which an aircraft is downed when a sudden sandstorm shuts down the engines and it has to make an emergency crash-landing in the Sahara Desert. But the passengers fight off the usual fears, greed and enmities to try to rebuild the plane and hopefully fly to safety.
James Stewart stars as Frank Towns, the veteran pilot who accepts guilt for the crash, but it turns out that the plane's drunken navigator Lew Moran (Richard Attenborough) was really to blame for the disaster.
Based on the original 1964 source novel by Elleston Trevor (aka Trevor Dudley Smith), Lukas Heller's screenplay provides very good roles for these two stars, who go about making the most of them, and also for Hardy Krüger, who scores strongly as Heinrich Dorfmann, the German aeronautical engineer who designs a blueprint for a new single-engine plane to be built out of the wreck.
But will the survivors go for it? Have they got enough food and water to give them time? Who will survive? Will you watch the film and find out?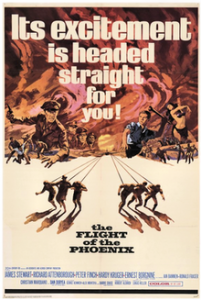 The ensemble cast also includes Peter Finch, Ernest Borgnine, Ian Bannen, Ronald Fraser, Christian Marquand, Dan Duryea and George Kennedy as other passengers on the aircraft. Bannen was Oscar nominated as Best Supporting Actor and Michael Luciano for Best Film Editing.
Though the film surprisingly didn't take flight at the box office, it had good reviews and has since deservedly gained a cult following and popularity on its many TV screenings. Aldrich's next film was the much more popular The Dirty Dozen (1967).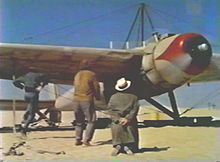 The end credit reads: 'It should be remembered that Paul Mantz, a fine man and a brilliant flier, gave his life in the making of this film'. Mantz, responsible for the film's superb flying sequences, was killed on the last day of shooting near Yuma.
Principal photography was at the 20th Century-Fox Studios and Ranch, California. Other locations, simulating the Sahara Desert, were Buttercup Valley, Arizona, and Pilot Knob Mesa, California. The flying sequences were filmed at Pilot Knob Mesa near Winterhaven, in California's Imperial Valley.
Remade as Flight of the Phoenix in 2004 by director John Moore and starring Dennis Quaid.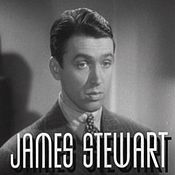 Stewart was nominated for five Academy Awards, winning one in competition (for 1940's The Philadelphia Story) and receiving one Lifetime Achievement award.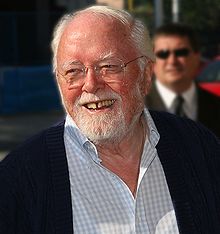 Richard Attenborough (1923–2014) won two Academy Awards for Gandhi in 1983 as film director and producer.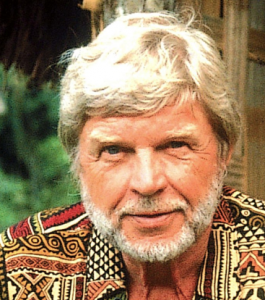 Hardy Krüger (born 12 April 1928) is one of the greatest German actors of the 1960s and the first German actor to have been accepted as a protagonist by non-German audiences after World War II. He was one of the many stars in Richard Attenborough's 1977 A Bridge Too Far (sharing a scene with Laurence Olivier).
http://derekwinnert.com/the-dirty-dozen-classic-film-review-813/
© Derek Winnert 2014 Classic Film Review 1088 derekwinnert.com