The Fisher King **** (1991, Jeff Bridges, Robin Williams, Mercedes Ruehl, Amanda Plummer) – Classic Movie Review 2876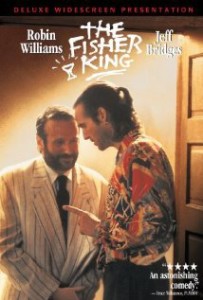 Director Terry Gilliam's truly appealing 1991 comedy fantasy drama is an impressively ambitious, deeply heart-tugging movie.
Jeff Bridges stars as a mean-minded but popular radio DJ who falls apart as suicidally despondent after a mad listener carries out a massacre in a busy New York bar and commits suicide because of a terrible mistake he made in railing against yuppies on air.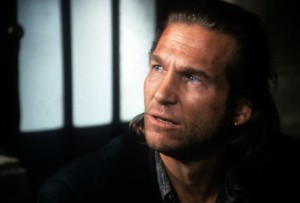 But the DJ starts a friendship with former professor Parry (Oscar nominated Robin Williams), deranged and homeless after witnessing his wife's violent death in the bar shooting. Eventually, the DJ seeks redemption through helping Parry recover what he believes is the Holy Grail and to win the heart of a woman.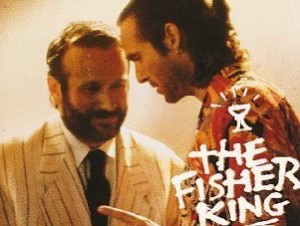 Of course, a mainstream film of this ambition and seriousness of purpose is greatly to be applauded. And the movie has many particular pleasures to offer – most especially Bridges's rock-solid, emotionally true and steady performance, Robin Williams as the unhinged Parry and Mercedes Ruehl's acting as Bridges's woman Anne. But they are offset by a lack of control that allows the film to ramble, drift to a way-overlong 137 minutes and be subjected to an overall uncertainty of tone.
Perhaps Richard LaGravenese's uneven screenplay is at fault, but it contains enough fine work to be judged an overall success.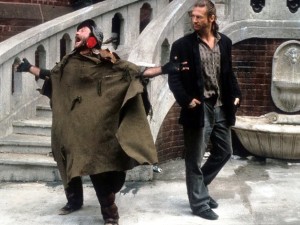 However, Gilliam handles some tremendously effective set pieces quite beautifully and he and cinematographer Roger Pratt have 20-20 vision for the great shot. And Ruehl's striking performance won her the deserved 1992 Best Supporting Actress Oscar and Golden Globe.
Good though Bridges is, it was Williams who was Oscar nominated as Best Actor, with LaGravenese nominated for Best Original Screenplay, George Fenton for Best Score and Mel Bourne and Cindy Carr for Best Art Direction-Set Decoration.
Also in the cast are Amanda Plummer, Adam Bryant, Paul Lombardi, David Hyde Pierce, Ted Ross, Lara Harris, Warren Olney, Michael Jeter, Harry Shearer, Kathy Najimy and John de Lancie.
© Derek Winnert 2015 Classic Movie Review 2876
Check out more reviews on http://derekwinnert.com