The Fiend Who Walked the West ** (1958, Hugh O'Brian, Dolores Michaels, Robert Evans, Edward Andrews, Linda Cristal, Stephen McNally, Ron Ely) – Classic Movie Review 6086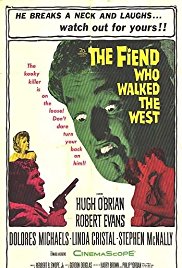 Director Gordon Douglas's 1958 film is a full-blooded Western reworking of ideas from the 1947 Kiss of Death, with Robert Evans going enjoyably over the top as a psychotic murderer called Felix Griffin (the part that made Richard Widmark a star in the original, then called Tommy Udo).
Griffin comes out of jail with the robbery secrets of fellow prisoner Daniel Slade Hardy (Hugh O'Brian) and roots out his buddy for the loot, terrorising O'Brian's wife Ellen (Linda Cristal) along the way. O'Brian's Hardy is freed too to capture him.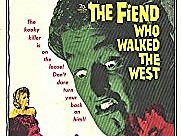 Brutal for its day, the horror Western remake movie is still watchable, but it is none too convincing thanks to uncertainly pitched performances. Evans's acting fulfills the lurid promise of the title, so he cannot be blamed for any incredulity or yawns the film might inspire.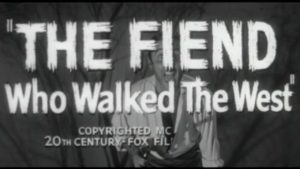 Harry Brown and Philip Yordan's screenplay is based on Ben Hecht and Charles Lederer's 1947 screenplay Kiss of Death, which was based on Eleazar Lipsky's story.
Also in the cast are Dolores Michaels as May, Edward Andrews as Judge Parker, Stephen McNally as Marshal Frank Emmett, Ron Ely as Deputy Jim Dyer, June Blair, Ken Scott, Emile Meyer, Gregory Morton and Sari Lee Bernath.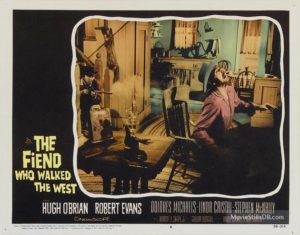 It runs 101 minutes, is released by 20th Century Fox, is shot in black and white and widescreen by Joe MacDonald, is produced by Herbert B Swope Jr, and is scored by Leon Klatzkin.
It was remade as Kiss of Death in 1995 with David Caruso, Samuel L Jackson and Nicolas Cage.
© Derek Winnert 2017 Classic Movie Review 6086
Check out more reviews on http://derekwinnert.com