The Faculty **** (1998, Elijah Wood, Josh Hartnett, Bebe Neuwirth, Robert Patrick, Jordana Brewster, Clea DuVall, Laura Harris) – Classic Movie Review 650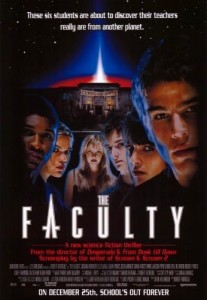 A hottish young cast spur this cheeky, hip and edgy youth-appeal 1998 horror thriller from Robert Rodriguez, the director of Desperado and From Dusk Till Dawn, and Kevin Williamson, the writer of Scream and Scream 2.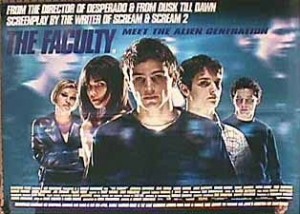 When creepy things happen round Herrington High School in Ohio, the pupils make a chilling discovery: the teachers really are aliens! As mind-controlling parasites rapidly spread from the faculty to the students' bodies, it's up to the few left – a collection of slackers, loners and losers – to save the world.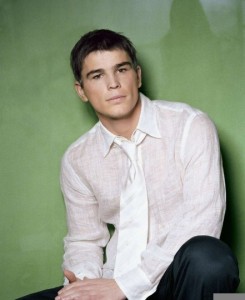 This pretty scary movie blatantly rips off the plot of Invasion of the Body Snatchers, then tells you it's done that, so that's okay, and then it puts a Nineties spin on it. It's done with enough tongue-in-cheek conviction, plenty of it actually, and it has a good sense of fun.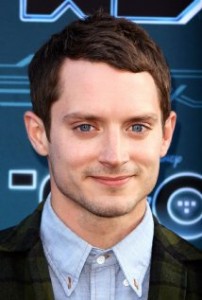 Elijah Wood makes a fine nerdy hero as Casey Connor, Josh Hartnett's good as the cool loner kid Zeke Tyler, while Bebe Neuwirth and Robert Patrick are effective as the Principal and Coach. And the alien, when it appears, is excellent.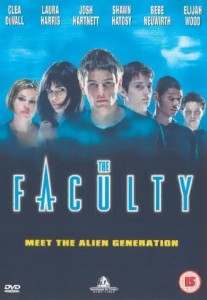 Shawn Hatosy, Laura Harris, Clea DuVall, Piper Laurie, Famke Janssen, Jon Stewart, Jordana Brewster, Salma Hayek, Daniel von Bargen, Christopher McDonald, Usher Raymond, Jon Abrahams and Summer Phoenix are in the classy, way-above-average cast.
Kevin Williamson writes the screenplay from a story by David Wechter and Bruce Kimmel.
http://derekwinnert.com/from-dusk-till-dawn-classic-film-review-142/
http://derekwinnert.com/scream-classic-film-review-622/
© Derek Winnert 2014 Classic Film Review 650
Check out more reviews on derekwinnert.com