The Fabulous Baker Boys ****½ (1989, Jeff Bridges, Michelle Pfeiffer, Beau Bridges) – Classic Movie Review 4397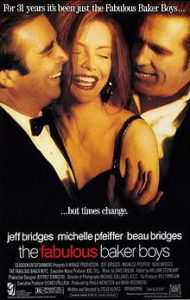 Making his directorial debut, writer-director Steve Kloves's 1989 romantic drama pairs real life brothers Jeff Bridges and Beau Bridges in their first screen teaming as piano-playing brothers Jack and Frank Baker, who are down on their luck while struggling to make a living as lounge-lizard jazz pianists in Seattle clubs.
But then, in desperation, they hire hooker-singer Susie Diamond (Michelle Pfeiffer) to sing for their supper. And soon she is sizzling on Jeff Bridges's piano in a red dress singing 'Makin' Whoopee' and the brothers are making a mint when she sparks their careers, prompting the boys to re-examine their relationship and their music.
Pfeiffer's glorious Oscar-nominated performance is one of her very best, Jeff's acting as a crumpled, downtrodden spirit is the heart and soul of the movie, and Beau gives a poignant turn as his older brother.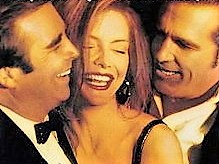 Beautifully written and crafted, The Fabulous Baker Boys is a funny, deeply touching bittersweet comedy drama with music, and, taking its cue from the title, it is absolutely fabulous. Cinematographer Michael Ballhaus makes it look exceedingly atmospheric and Dave Grusin takes care of the music score perfectly.
Also in the cast are Ellie Raab, Jennifer Tilly, Xander Berkeley, Dakin Matthews, Kern Lerner, Albert Hall, Terri Treas, Gergory Itzin, Bradford English, David Coburn, Todd Jeffries and Nancy Fish.
It gained four Oscar nominations – for Best Actress (Pfeiffer), Best Cinematography, Best Film Editing and Best Original Score.
The film was not a big hit but it gained much prestige and did reasonably well, taking $18.5 million on a $11.5 million cost. However, Kloves's next film as writer/director was Flesh and Bone (1993), which did badly at the box office and Kloves stopped writing for three years. But then he adapted Michael Chabon's novel Wonder Boys into a movie. And then Kloves returned to favour when he wrote the screenplays for the Harry Potter films, other the fifth one.
© Derek Winnert 2016 Classic Movie Review 4397
Check out more reviews on http://derekwinnert.com