The Europeans **** (1979, Lee Remick, Robin Ellis, Wesley Addy, Tim Woodward, Lisa Eichhorn, Norman Snow) – Classic Movie Review 1685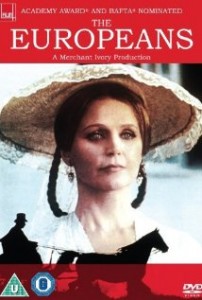 Director James Ivory's 1979 romantic drama movie is one of his most polished masterworks. There's everything to charm and entertain in this particularly rich, delicate, subtle, charming and satisfying Merchant-Ivory film.
Ruth Prawer Jhabvala makes a delicious banquet of adapting the Henry James novel, attending to the nuance of plot, character and dialogue with tender loving care, while an inspired Ivory directs with a miniaturist's attention to detail and eye for beauty. It is also much distinguished by Larry Pizer's eye-catching cinematography, Richard Robbins's attractive score and the immaculate playing from a talented, often underused and undervalued cast.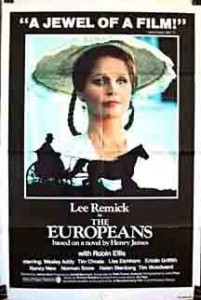 In a relatively rare high-quality star role, Lee Remick gets to remind us what an exquisite actress she could be, greatly impressing as the 1850 European baroness Eugenia Munster, who arrives in New England with her brother Felix Young (Tim Woodward) to meet their maternal uncle Mr Wentworth (Wesley Addy) and their three American cousins for the first time.
Mr Wentworth slightly reluctantly puts them up in a neighbouring house on the family's property. Unlike the aloof Eugenia, Felix easily enjoys the company of his cousins, especially the shy Gertrude (Lisa Eichhorn), whom their neighbour Mr Brand (Norman Snow) wants to marry .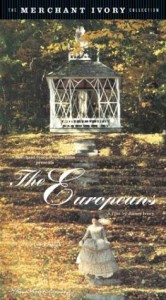 Woodward, Eichhorn, Snow and Addy are also ideal and there are excellent star roles for Kristin Griffith and Robin Ellis too as Lizzie and Robert Acton.
This is an even finer Henry James adaptation than Merchant-Ivory's later The Bostonians (1984), though not by much. They make a perfect pair. The Bostonians also features Wesley Addy.
Irreplaceable, Merchant-Ivory are best known for A Room with a View (1985), Maurice (1987), Howards End (1992) and The Remains of the Day (1993). How great were the Merchant-Ivory days, and how sorely missed they are now. Producer Ismail Merchant died on May 25 2005, aged 68.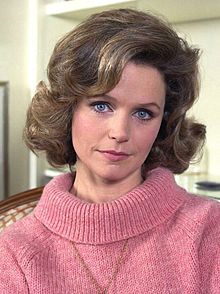 Lee Remick is also sorely missed. She died on 2 July 1991, aged just 55. She was nominated for the Academy Award for Best Actress for Days of Wine and Roses (1962).
http://derekwinnert.com/a-room-with-a-view-classic-film-review-169/
http://derekwinnert.com/the-remains-of-the-day-classic-film-review-451/
© Derek Winnert 2014 Classic Movie Review 1685
Check out more reviews on http://derekwinnert.com/