The Englishman who Went Up a Hill, But Came Down a Mountain *** (1995, Hugh Grant, Tara Fitzgerald, Colm Meaney, Ian McNeice, Ian Hart)- Classic Movie Review 734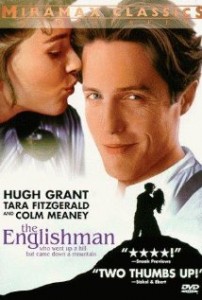 In Welsh writer-director Christopher Monger's 1995's romantic comedy, Hugh Grant has an awfully small adventure in a Welsh small town in 1917. He and Ian McNeice play English cartographers who arrive to measure the height of the local beauty spot Ffynnon Garw, and find that since a mountain must be at least 1,000 feet, this one is 16ft short of a mountain.
The villagers decide to keep the duo in distracted in town, staying on to measure it again, while they drag the extra earth up the hill, er mountain, to make it the required height. Symbolically they even dig up their nationally sacred rugby pitch for earth.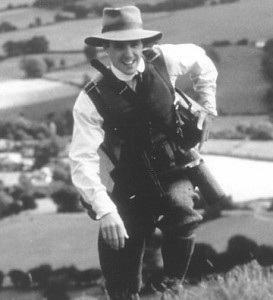 The film's characters are largely caricatures, though they're played with much gusto by a talented ensemble – scene-stealing Kenneth Griffith as the Reverend Jones, Colm Meaney as the feuding publican Morgan the Goat, Tara Fitzgerald as the alluring Betty of Cardiff imported to romance Grant, and Ian Hart as the speechless war victim, Johnny Shellshocked.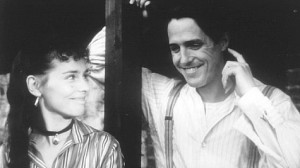 It would be nice to report after all his troubles that Grant reaches a new peak with this film, but in fact he gives his usual turn of charming, doddering Englishman once again, and though very skilled it's beginning to wear perilously thin. Though mostly entertaining and amusing, this likeable Ealing studios-style comedy is 16ft short of being a classic, needing to push harder: more laughs, more romance, and more social comment about the first World War and the society of the day would make it a much more compelling experience.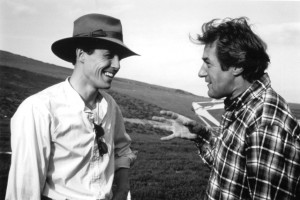 As a movie it's a well-appointed molehill rather than an awesome mountain. But, nevertheless, it remains modestly engaging, pleasant and quietly charming, with appealing actors giving likeable turns. Siskel and Ebert gave it two thumbs up.
The original story is by Ifor David Monger.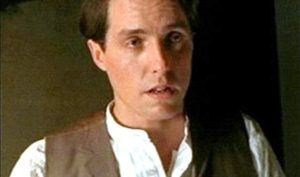 Christopher Monger based his script on a family legend told to him by his father and grandfather. In creating his larger-than-life characters, he relied on memories of people he has known in his home village of Taff's Well, near Cardiff. 'Some are composite characters,' he says. 'but I think certain people will recognise themselves.'
Monger wrote the part of the English mapmaker come to measure a Welsh hill for Hugh Grant, who loved it and signed on at once. Expect gentle, old-style humour. Monger says: 'Welsh has no crude swear words, unlike the inferior Anglo-Saxon tongue. The worst insult in Welsh is to call someone Sais. It means Englishman!'
Hugh Grant and Tara Fitzgerald also star together in Sirens (1993).
© Derek Winnert 2014 Classic Film Review 734 derekwinnert.com