The Electric Horseman *** (1979, Robert Redford, Jane Fonda, Valerie Perrine, Willie Nelson, John Saxon, Allan Arbus, Wilford Brimley) – Classic Movie Review 4010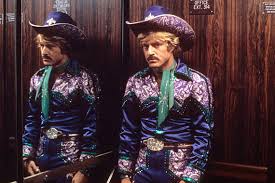 Director Sydney Pollack teams up with Robert Redford again in 1979 for an interesting, if weird mix of modern-day Western, media satire and populist romanticism. It teams Redford with Jane Fonda, his 1967 co-star in Barefoot in the Park.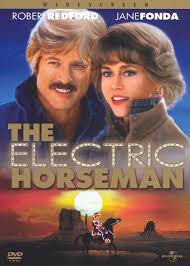 Redford plays a boozy rodeo star called Sonny Steele, who tires of advertising breakfast cereal on stage in Las Vegas, wearing a suit covered in lights. So steals a thoroughbred horse that they are going drug to prevent it being too frisky, and rides off into the desert, heading into the sunset with TV reporter Hallie (Jane Fonda).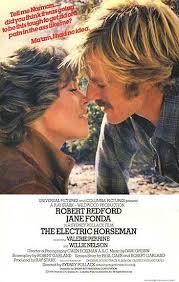 Pollack's ambitious movie manages to be overblown and none too sharp but it is still pleasing and involving nevertheless. It comes off, though it's always a near thing. Robert Garland's screenplay works better as a satire on corporations and advertising than as a crowd-pleasing romance between the two stars.
Especially given her politics, Fonda's role as reporter Hallie is surprisingly subservient. Can you really imagine her as the little television journalist newswoman who prefers love with Redford's Sonny Steele to breaking a big good news story?
Also in the cast are Valerie Perrine, Willie Nelson, John Saxon, Nicolas Coster, Allan Arbus, Wilford Brimley, Quinn Redeker, Will Hare, Basil Hoffman, Timothy Scott, James Kline, Frank Speiser and James B Sikking.
Fonda had just played a TV reporter in The China Syndrome (1979).
© Derek Winnert 2016 Classic Movie Review 4010
Check out more reviews on http://derekwinnert.com