The Eagle Has Landed *** (1976, Michael Caine, Donald Sutherland, Robert Duvall, Jenny Agutter, Donald Pleasence, Anthony Quayle, Jean Marsh) – Classic Movie Review 4116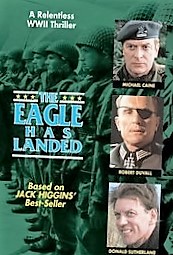 In his final film, director John Sturges's manly 1976 good, old-fashioned, big-budget wartime adventure thriller movie is based on Jack Higgins's best-selling novel, set in 1943.
It has an eccentric, often miscast all-star roster of players, including Michael Caine as a disgraced German officer, Colonel Kurt Stener, Donald Sutherland as an IRA man, Liam Devlin, Robert Duvall as another German, Colonel Max Radl, and Donald Pleasence as Heinrich Himmler, as well as Jenny Agutter, Anthony Quayle, Jean Marsh, Sven-Bertil Taube, John Standing, Judy Geeson, Larry Hagman, Maurice Roëves, Treat Williams, Michael Byrne, Jeff Conaway, Roy Marsden, and Siegfried Rauch, as well as Peter Miles as Hitler.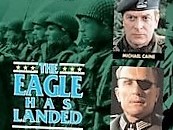 The big-name actors have fun with the silliness of the fictional, urban legend-type wartime paranoia story about a Nazi attempt to kidnap British Prime Minister Sir Winston Churchill, as German parachute unit commander Steiner is sent to England on a covert mission impossible to abduct Churchill to Berlin. When Steiner and his men arrive in England with a real chance of success, the Boy's Own adventure result is consistently entertaining.
It is very much in the spirit of Caine's later release Escape to Victory (1980) or the earlier Where Eagles Dare (1968). The release version is 134 minutes, the cut version is 123 minutes and the long version is 145 minutes.
Also in the cast are Alexei Jawdokimov, Richard Wren, Joachim Hansen, Deni Lill, Rick Parsé, Léonie Thelen, Keith Buckley, Terence Plummer, Tim Barlow, John Barrett, Kate Binchy, David Gilliam, and Leigh Dilley.
Caine was offered the role of Devlin but did not want to play an IRA member and asked to play Steiner instead. Richard Harris was then cast as Devlin but forced to drop out after he caused an uproar by attending a fund raiser for the Provisional IRA in the United States. Caine recalls: 'The picture wasn't bad but I still get angry when I think of what it could have been with the right director. Sturges never came back for the editing nor for any of the other post-production sessions where a director does some of his most important work.'
The fictional village of Studley Constable is a name over-printed on an Ordnance Survey map of the north Norfolk coast.
© Derek Winnert 2016 Classic Movie Review 4116
Check out more reviews on http://derekwinnert