The Driller Killer *** (1979, Abel Ferrara, Carolyn Marz, Baybi Day) – Classic Movie Review 4315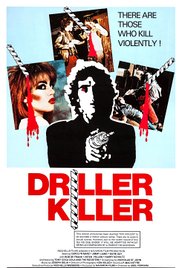 Abel Ferrara stars in his own notorious, cheaply made ($20,000) and extremely disturbing 1979 horror film as Reno Miller, a psychotic, hallucinating New York frustrated artist, who lives with two room-mates, Carol Slaughter (Carolyn Marz) and Pamela (Baybi Day) and slowly loses his mind as a punk band plays downstairs.
The maniacal Reno falls for Carol and, when she rejects him, he finally snaps and goes on a rampage with cordless hand power-drill after being driven over the edge of spiralling insanity by the punk band playing and partying in the apartment downstairs. [Spoiler alert] Reno rampages through NYC with his drill, taking out his rage on those he thinks responsible for his misery, and graduates from killing homeless people to murdering Carol.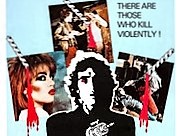 This cult key Seventies horror film is utterly disgusting and repulsive of course, but Ferrara shows lots and lots of talent both in his portrayal of insanity and handling of fear, and in his mastery and immediacy of the hand-held camera, though admittedly a lot less ability as an actor.
Though Ferrara's extremely unpleasant, gruesome and gory shocker showcases evident talent and skill, they are often hidden by the low budget and the quick, scrappy filming, as well as scripting and acting deficiencies. In any case, Aunt Edna: go to bed!
It is an early work of clever director Ferrara, who went on to the heights of Cat Chaser, King of New York and The Bad Lieutenant. Ferrara stars under the pseudonym of Jimmy Laine. It is written by Nicholas St John and Louis Mascola.
Also in the cast are Bob De Frank, Peter Yellen, Harry Schultz, Alan Wynroth and Maria Helloski.
Though originally released in UK cinemas with the gruesome hand-drill killings it depicts intact, its reputation as a video nasty in the Eighties was so infamous that it was only finally released on video in the UK in 1999 in a version cutting 54 seconds of extreme violence.
On British TV it is shown in a TV version edited for some of its content.
© Derek Winnert 2016 Classic Movie Review 4315
Check out more reviews on http://derekwinnert.com