The Death of Stalin **** (2017, Steve Buscemi, Jeffrey Tambor, Simon Russell Beale, Michael Palin, Jason Isaacs, Andrea Riseborough, Olga Kurylenko) – Movie Review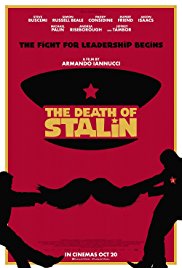 Co-writer/ director Armando Iannucci's bold, clever and funny biographical comedy drama follows the chaos in Russia as the advisors of evil dictator Stalin (Adrian McLoughlin) battle for power on his unexpected death. Extraordinarily, it is based on a comic book – The Death of Stalin by Fabien Nury and Thierry Robin – as well as an original screenplay by Nury. Comic is an odd word for this material. I think it is what people call gallows humour. People actually die in this comedy, other than Stalin that is.
So it is a forcefully dark-toned political comedy, realised with some tremendous, well-judged, full-on comedic performances, with Steve Buscemi as Nikita Khrushchev, Jeffrey Tambor as Georgy Malenkov, Simon Russell Beale as Lavrentiy Beria and Michael Palin as Vyacheslav Molotov outstanding. Luckily, you really don't have to have heard of these Russian folks to appreciate the comedy.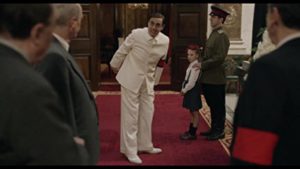 It's all about the casting, performing and above all the script, all of which are generally very good, some brilliant, with more hits than misses. Some of the casting and performances fall well short of perfect, but others are just great. It might just be to taste, but Jason Isaacs seems to misjudge his over-played turn as military man Georgy Zhukov, while Andrea Riseborough and Rupert Friend are awkward as Svetlana and Vasily Stalin. And Paddy Considine has the bad luck to have a largely serious role as Comrade Andryev, which he plays largely seriously – well somebody has to.
I'm not sure why there are Americans in the cast, but they just mingle in and get on with it. Never thought of Khrushchev as being particularly American – he'll probably be turning over in his grave at the idea – but Buscemi is pretty darned brilliant. It's also rewarding to find the 74-year-old Palin back doing edgy comedy, and doing it so well.
Despite a few misfiring gags and moments, maybe the odd taste and judgement call flaw, the script by Iannucci, David Schneider, Ian Martin and Peter Fellows is a very good one indeed. Hey, sometimes it is hysterical. You can pick away at flaws in this enterprising enterprise, but, all in all, miraculously, it works, and that must be largely to Iannucci's herculean efforts to hold on to it and hold it all together. He keeps it moving, never lets it flag or run into over-time, and edits it fast and hard. Good job, Mr Iannucci!
He managed to get nominated for the Platform Prize at Toronto International Film Festival (2017). Now that's pretty funny! Platforms giving a prize now? Is it Platform 9 3/4?
© Derek Winnert 2017 Movie Review
Check out more reviews on http://derekwinnert.com