The Dawn Patrol **** (1930, Richard Barthelmess, Douglas Fairbanks Jr, Neil Hamilton, William Janney) – Classic Movie Review 4746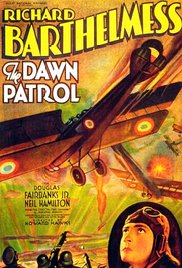 Richard Barthelmess and Douglas Fairbanks Jr star as British World War One ace fliers Dick Courtney and Douglas Scott, who defy their Royal Flying Corps air force bosses to settle their score with the German Hun.
The gung ho Courtney derides the leadership of his commanding officer Major Brand (Neil Hamilton), but Courtney becomes squadron commander and learns the harsh facts of reality about sending young men to their likely deaths. A rift grows between friends when Scott asks Courtney to spare his newly arrived brother Gordon (William Janney) from combat duty.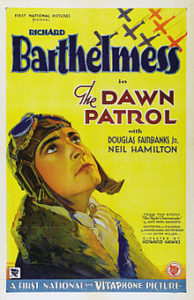 Unfortunately, some of director Howard Hawks's big-budgeted ($600,000) 1930 film is very creaky, and much of the acting is starchy, misjudged and stodgy now. But the gripping situations and story, and the great dogfight footage and munitions depot explosion sequences still distinguish this notable original Hawks version of John Monk Saunders's Academy Award-winning Best Story, The Flight Commander. The flying sequences are brilliantly shot for their day by Ernest Haller, Hawks's 'cameraman of choice', brought in by Barthelmess.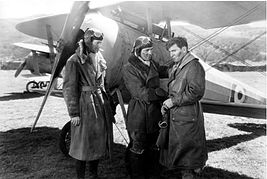 Made at the dawn of sound cinema, it was Hawks's first sound movie. Making allowances  for that, and its comparatively slow-running pace, it is still an impressive, compelling experience for old movie buffs.
Released by Warner Bros and running 105 minutes, it was written by Dan Totheroh, Seton I Miller and Howard Hawks, shot by Ernest Haller, produced by Robert North and scored by Leo F Forbstein.
Also in the cast are James Finlayson, Clyde Cook, Edmond Breon, Gardner James and Frank McHugh.
The film is notable for its lack of background music, adding a documentary realism feel to a realistic story.
It was remade as The Dawn Patrol by director Edmund Goulding in 1938, starring Errol Flynn, Basil Rathbone and David Niven, and using the 1930 film's original flying sequences and munitions depot explosions. After that, the original was re-released as Flight Commander.
Former World War One flight instructor Hawks flies in an uncredited role as a German pilot.
© Derek Winnert 2016 Classic Movie Review 4746
Check out more reviews on http://derekwinnert.com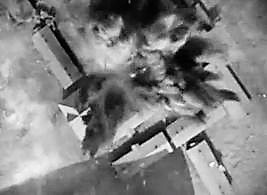 The impressive aerial sequences re-appeared in The Dawn Patrol (1938) and in British Intelligence (1940).