The Dawn Patrol **** (1938, Errol Flynn, Basil Rathbone, David Niven, Morton Lowry, Melville Cooper, Donald Crisp, Barry Fitzgerald) – Classic Movie Review 4747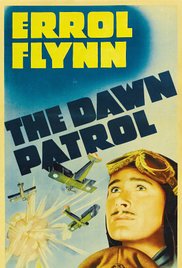 Director Edmund Goulding's sterling if penny-pinching 1938 remake of Howard Hawks's 1930 movie The Dawn Patrol ingeniously includes some of the great dogfight footage and munitions depot explosion sequences that distinguished the first version, as well as otherwise closely following the original script from Hawks's film.
On the ground, though, the star team of Errol Flynn, Basil Rathbone, David Niven, Morton Lowry, Melville Cooper (as Sergeant Watkins), Donald Crisp (as the CO's adjutant Phipps) and Barry Fitzgerald (as Bott) are far superior to their 1930 counterparts. Flynn replaces Richard Barthelmess in the lead, Niven takes Douglas Fairbanks Jr's role and Rathbone has the role played by Neil Hamilton in 1930.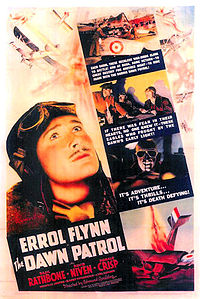 Seton I Miller and Dan Totheroh are credited as writing the new screenplay, based on their 1930 original, taken from the Oscar-winning story The Flight Commander by John Monk Saunders. But it was Miller, together with Goulding, who comes up with the new script, following the original closely and rewriting dialogue for Flynn, Rathbone and Niven.
It is World War One in 1915 France, and gung ho Royal Flying Corps air ace Captain Courtney (Flynn) derides the leadership of his 39th Squadron commanding officer Major Brand (Rathbone). But Courtney becomes squadron commander and learns the harsh reality about sending young men to their deaths. A rift grows between friends after Courtney's best buddy Douglas 'Scotty' Scott (Niven) asks him to spare his newly arrived younger brother Donnie (Morton Lowry) from combat duty.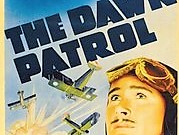 The 1930 version is notable for its lack of background music but here Max Steiner's score and several songs help to establish and convey the mood and atmosphere and to stir up the action.
Also in the all-male cast are Carl Esmond as Hauptmann Von Mueller, Peter Willes, Michael Brooke, James Burke, John Sutton, Stuart Hall, Herbert Evans, Sidney Bracey and Leo Norris.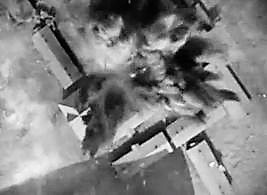 The impressive aerial sequences re-appeared again in British Intelligence (1940).
It is the only film Flynn and Rathbone (here fresh from The Adventures of Robin Hood) appeared in where their characters are on the same side.
Airfield exteriors were shot at the Warner Bros Ranch near Calabasas, California.
© Derek Winnert 2016 Classic Movie Review 4747
Check out more reviews on http://derekwinnert.com