The Dark Half ** (1992, Timothy Hutton, Amy Madigan, Michael Rooker, Julie Harris, Royal Dano, Robert Joy) – Classic Movie Review 5780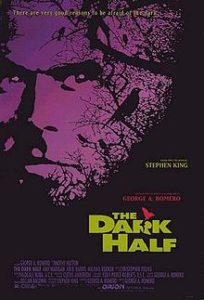 Writer-director George A Romero works outside the comfort zone of his low-budget zombie Dawn of the Dead formula with his intriguing, ambitious but messy 1992 film version of Stephen King's 1989 novel, the second best-selling book of its year. It stars Timothy Hutton as Thad Beaumont and George Stark, Amy Madigan as Liz Beaumont, Michael Rooker as Sheriff Alan Pangborn, Julie Harris as as Reggie Delesseps, Robert Joy as Fred Clawson and Royal Dano as Digger Holt.
It is Romero's second major studio film production, after Monkey Shines (1998), apparently causing problems for the normally low-budget director. Alas, Romero's often botched and sometimes unpleasant horror movie re-works elements of Jekyll and Hyde, the Wolfman and the Fly enthusiastically but to less avail than you would hope.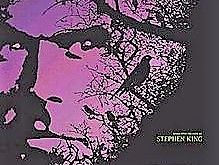 Timothy Hutton makes some headway in interesting though very difficult to play twin roles as the mild-mannered highbrow literary novel writer Thad Beaumont, married to Liz (Madigan) and his alter ego George Stark. For Thad is better known as a best-selling novelist for his suspense thrillers written under the pen name (nom de plume) of George Stark, Thad's 'dark half', a foetus tumour embedded in his grey cells that grows up to be his alter ego, or evil twin.
However, Thad decides to retire George and to kill him off after he is threatened with exposure as the pen name suspense thriller writer by a law student blackmailer, and he buries him in a mock grave. But George emerges from the grave as Thad's stop-at-nothing 'dark half', who engulfs his personality and takes on a life of its own, a sadistic killer in black, slicked-backed hair who loves Elvis and goes on the rampage and terrorises Thad's family and friends.
To be fair, Hutton's creepy performance as George is effectively against his usual sensitive, good guy typecasting, and he differentiates the two characters well. Yet Romero's screenplay (with Paul Hunt and Nick McCarthy) has a fatal unevenness of tone, varying between realistic graphic horror with lots of gore, spoof-toned characters, mordant humour, flat explanatory scenes and a comic-book climax with computer graphic birds picking the flesh off a toy skeleton then dragging it off into a paper sky.
Some of these scenes are effective, but Romero has an impossible task in trying to orchestrate the abrupt and dramatic changes in tone and mood. However, in the novel King – who had the idea for the story when his own secret pen name (nom de plume) was uncovered – could successfully ring the changes on the page between the real, the mythical the jovial and the fantastical.
Michael Rooker from Henry Portrait of a Serial Killer (1986) enjoys himself as the nice local sheriff Alan Pangborn of Castle Rock, Maine, in a piece of tongue-in-cheek casting. It is the final film of prolific, quirky character actor Royal Dano (1922–1994). Also in the cast are Chelsea Field as Annie Pangborn, Rutanya Alda as Miriam Cowley, Kurt Broadhurst as Mike Donaldson, Beth Grant as Shayla Beaumont, Tom Mardirosian as Rick Crowley and Glenn Colerider as Homer Gamache.
One important location is Washington and Jefferson College, near Pittsburgh, Pennsylvania, and another is a a home located on Maple Avenue in the Edgewood neighbourhood of Pittsburgh.
Though shot from October 1990 to March 1991, it was not released till April 1993 because of Orion Pictures' financial problems, taking $10.6 million at the US box office on a cost of $15 million.
RIP George A Romero.
© Derek Winnert 2017 Classic Movie Review 5780
Check out more reviews on http://derekwinnert.com