The Curse of the Fly ** (1965, Brian Donlevy, George Baker, Carole Gray, Yvette Rees, Rachel Kempson, Bert Kwouk) – Classic Movie Review 5302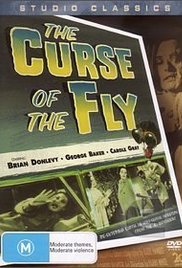 This 1965 British-made horror movie is the last and least of the first flight of The Fly movies. Alas there is no series star Vincent Price in this third and final installment as he was under contract to American International Pictures. It keeps up the traditions of its predecessors by having some particularly poor acting, special effects and storytelling – all the things a top-flight Fly movie would need, as David Cronenberg saw when he successfully resurrected the idea in 1986 for The Fly.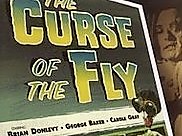 Carole Gray stars as Patricia Stanley who escapes from a mental institution and marries Martin Delambre (George Baker), whose father Henri (Brian Donlevy) is creating mutant monstrosities with his 4D experiments in matter transmission.
Nevertheless, despite the film's downsides, the set-up, based on George Langelaan's story The Fly, is good though, the three stars are fine, director Don Sharp conjures up the right doomed atmosphere, and the movie is sneakily amusing.
Charles Carson plays Inspector Charas and Jeremy Wilkins plays Inspector Ronet, the police inspectors on the case. Also in the cast are Yvette Rees, Rachel Kempson, Bert Kwouk, Michael Graham, Mary Manson, Warren Stanhope, Arnold Bell, Mia Anderson and Stan Simmons.
It is written by Harry Spalding, shot in black and white at Shepperton Studios, Surrey, England, by Basil Emmott, produced by Robert L Lippert and C Jack Parsons, scored by Bert Shefter, and set designed by Harry White.
It was released on DVD in a box set with the original series of films in 2007.
Donlevy replaced Claude Rains and Carson replaced Herbert Marshall.
Vincent Price starred in The Fly and its sequel Return of the Fly (1959).
In 2017, film-maker J D Dillard is set to remake The Fly with his writing partner Alex Theurer.
© Derek Winnert 2017 Classic Movie Review 5302
Check out more reviews on http://derekwinnert.com